In mid-March, Kevin from Maldives paid a deposit to YG Machinery to purchase a plastic bag making machine. The Maldives customer purchased a film-blowing machine, a plastic bag-making machine, and other auxiliary equipment from YG Machinery. These pieces of equipment enable Kevin to produce vest plastic bags from raw material to blown film, to making vest bag molding. YG provides a variety of plastic bag-making equipment, such as machines to make garbage bags, PE zip lock bags, PP woven bags, courier bags, etc. Please tell us what kind of plastic bag you want to make, and YG will provide you with a solution.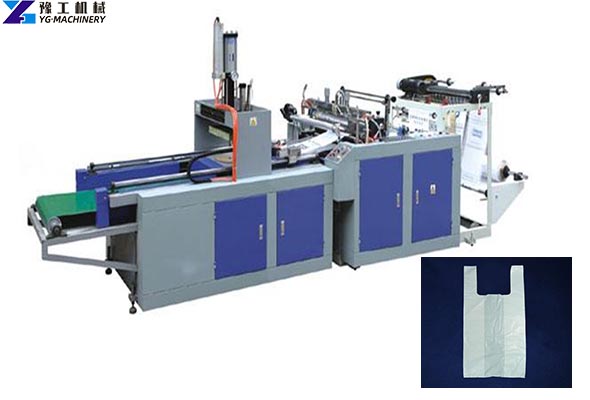 Maldives Plastic Bag Making Machine Details
Name
Picture
Parameters
Qty.
Film Blowing Machine
Model: YG-900
Screw diameter: ¢50
Blown film width: 50-800MM (diameter)
Film thickness: 0.01-0.12mm
Main motor power:15KW
Heating power:42KW
Raw material: LDPE LLDPE/LDPE LLDPE
Capaity:60-65kg/h
Size:5600*2200*4700
Weight:2.6T
1set
Plastic Bag Machine
Technical parameters:
Model: YG-800
Maximum bag-making length:1200mm
Maximum bag-making width:750mm
Bag making speed:160pcs/min
The bag-making thickness is 0.01-0.05mm
Total power:2KW
Weight:850KG
Size:3500×1300×1800mm
1 set
Supporting Equipment
1 color 800mm printing machine
2. Corona machine
3. Rotating body
4. Mixer with heating
5. Grinder
6. 7.5KW air compressor
7. 1m3 air tank
One Unit for Each Equipment
The above is the film blowing machine, t-shirt bag-making machine, and other supporting equipment related to making plastic bags ordered by Kevin. The above is a relatively complete set of equipment for making vest bags. If you have a limited budget, you can also buy the most important blown film machines, plastic bag-making machines, and so on. Please contact us to get detailed details of Plastic Bag Making Machine.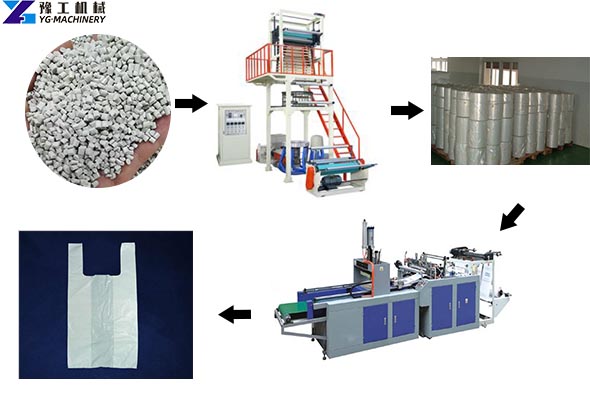 About Plastic Vest Bag Making Machine
The plastic vest bag-making machine is suitable for processing cylindrical plastic natural color or color printing and ordering vest bags. It uses HDPE and LDPE tube film made by film blowing machine as raw material to make plastic bags. It goes through lengthening, back sealing, cutting, punching, and other steps to make vest bags. The vest plastic bag-making machine can complete one-time bag-making, with a high degree of automation and good economic benefits. YG provides various models of vest bag-making machines, and YG also provides customized solutions. The length and width of the plastic bags produced can be customized according to customer needs. If you want to make plastic bags, please leave us a message to get the machine details.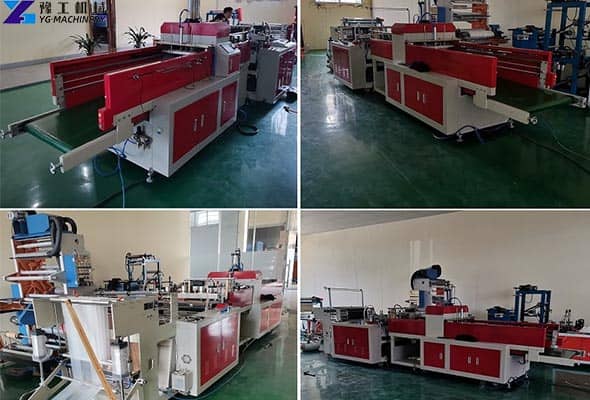 YG Plastic Bag Making Machine Manufacturer
YG is a manufacturer specializing in plastic processing machinery, providing a variety of plastic equipment. For example, PET bottle-blowing machines, plastic film-blowing machines, plastic bag-making machines, injection molding machines, plastic recycling machines, etc. After more than 20 years of development, YG has formed a professional manufacturer integrating R&D, production, sales, and service. The plastic equipment produced by YG has been exported to many countries and regions such as Lupus, Vietnam, Singapore, France, and Canada. YG has always been customer-centric, committed to providing customers with high-quality products and services, and has won universal praise from customers.