The long gloves made by PE long glove making machine are suitable for veterinary animal inspection. Disposable veterinary long-arm gloves are soft, delicate, and elastic, which can effectively solve problems such as perforation and tearing. YG disposable veterinary glove making machine is successfully developed by our factory after years of research and development. It has the characteristics of stable quality and easy operation and control. PE long sleeve glove making machine is the best equipment for producing disposable gloves of PE, EVA, CPE, and other materials. In addition, YG also provides disposable slipper making machines, apron making machines, flower sleeve making machines, disposable shoe cover machines, and other PE products machinery.
PE Long Sleeve Glove Production Overview
Finished Product: Smooth or Embossed Disposable Veterinary Gloves
Application: Disposable veterinary gloves machine can be used for rectal palpation of ovaries, pregnancy examination, obstetrics, and artificial insemination of cattle, horses, donkeys, and other animals
Applicable material: 100% LDPE/LLDPE/LDPE/EVA
Glove length: 40~90cm, the length can be customized according to customer needs
Glove width: 26~29.5cm, the width can be customized according to customer needs
Packing style: box packing or bag packing
Finished PE Veterinary Glove Display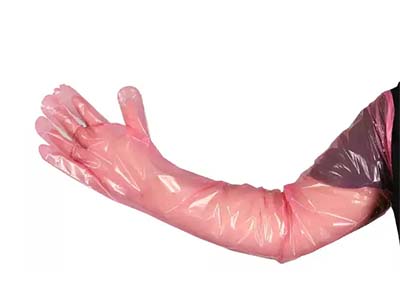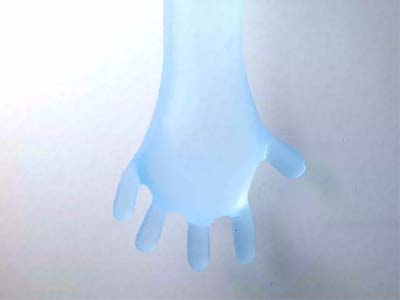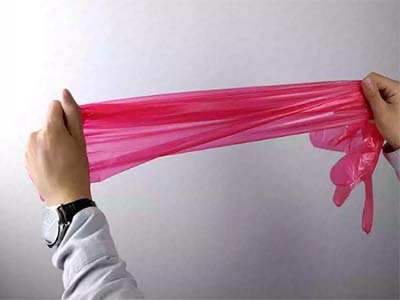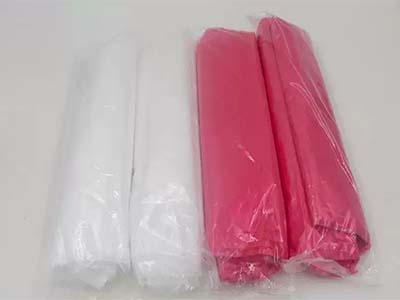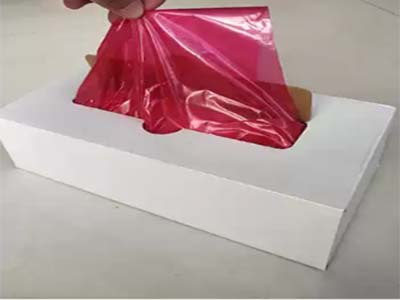 Plastic Veterinary Glove Making Machine Parameters
| | |
| --- | --- |
| Model | HT-LG1000 |
| Glove length | 1000 mm |
| Film thickness | 0.02-0.08 mm |
| Speed | 30-50 pcs/min |
| Voltage | 380V 50HZ |
| Machine Power | 2.2 KW |
| Total Power | 13.5 KW |
| Processing material | HDPE, LDPE, EVA, CPE |
| Machine Size | 3500X1000X1500mm |
Long Veterinary Sleeve Gloves Features
Made of high-quality PE material, it feels comfortable, soft, and delicate, and has a certain toughness.
The interior is smooth and easy to wear, and it will not be stuffy in summer.
Thick texture, wear-resistant and tear-resistant, effectively solve problems such as perforation and tearing.
Using good materials to shape and shape through multiple processes, no water leakage or air leakage.
Guaranteed quality, will not cause damage to animal mucous membranes.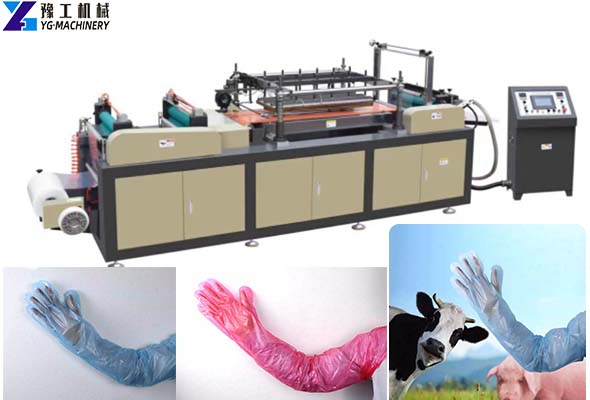 Disposable PE Long Glove Machine Advantages
Simple operation. The operation interface is simple and clear, easy to use, and one person can operate the device.
Good performance. High hardness, strong wear resistance, and long service life.
Reduce costs. The device can replace hand-made long-arm gloves, save labor and reduce production costs.
Full automatic production. The whole process of the disposable long-sleeve glove machine is automated from raw materials to finished products.
Automatic constant temperature control. The device can realize automatic thermostatic control without manual adjustment.
The finished product is of good quality. The long-arm gloves made by the disposable glove machine are of good quality, soft, delicate, and elastic.
The discharging part adopts the way of air expansion shaft and cylinder fixed. Faster and more convenient than traditional methods.
Veterinary Glove Making Machine Details