The bottle wrapping machine is also called the sleeve shrink wrap machine, which is specially designed for film sealing and heat shrinking packaging equipment. It is suitable for single-item packaging or multiple-item combined packaging with a backing. The sleeve shrink wrap machine can complete the steps of automatic film feeding, automatic bag making, surface smoothing, sealing and cutting film packaging, heat shrink packaging, and other steps at one time. The whole bottle wrapping machine adopts chain net conveying, stable operation, long service life, and wide application. It is the best equipment for heat shrinkable packaging.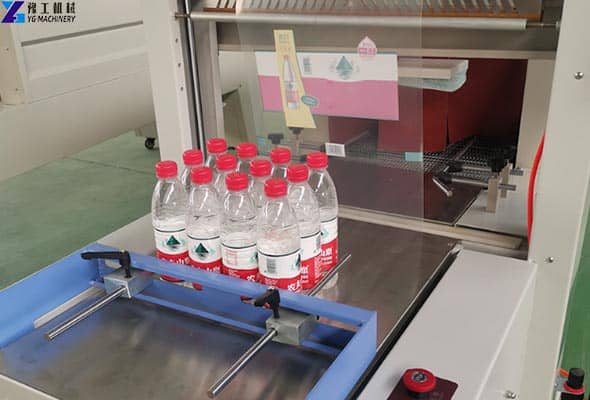 Parameters of Bottle Wrapping Machine
| | | |
| --- | --- | --- |
| Model | YG-7540 | YG-6040 |
| Maximum sealing size | 450*350*300mm | 450*350*300mm |
| Power | 2kw | 26kw |
| Work efficiency | 1-15 packs per minute | 0-15m/min |
| Power | 220v 50/60HZ | 380v 50/60HZ |
| Working Pressure | 6-8(kg/c㎡) | 6-8(kg/c㎡) |
| Machine Weight | 350kg | 400kg |
| Machine Size | 980*1150*1900mm | 2900*950*1600mm |
Thermal Heat Shrink Wrapping Sample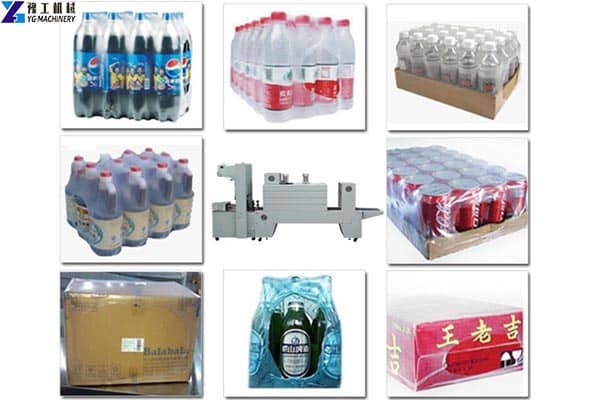 About Water Bottle Wrapping Machine
The bottle wrapping machine is suitable for the outer packaging of small bottles of 500ml mineral water. It is packaged with PE heat-shrinkable film, which can pack mineral water into 9 bottles, 12 bottles, 24 bottles per package, and other different forms. The mineral water bottle packing machine adopts upper and lower rolls of film, and the packing speed is 8-10 packs per minute. YG plastic machinery manufacturer offers two types of plastic bottle packaging machines, both semi-automatic and fully automatic models. If you are an initial investor, you can choose semi-automatic equipment that costs less. If you want equipment with a high degree of automation, then you can choose fully automatic equipment. In addition, YG also provides water bottle filling machine and a mineral water bottle making machine.
Sleeve Shrink Wrap Machine Application
The water bottle sleeve shrink wrap machine has a very wide range of applications, helping all walks of life to achieve intelligent packaging. Such as the catering industry, daily chemical industry, pharmaceutical industry, gift industry, toy industry, packaging, printing industry, etc. It not only applies to one or more columns of packaging, but also to the packaging of individual items. After packaging, the products are neatly arranged, fastened, and beautiful.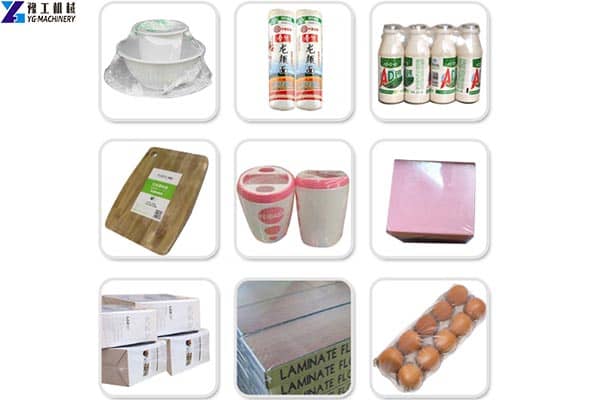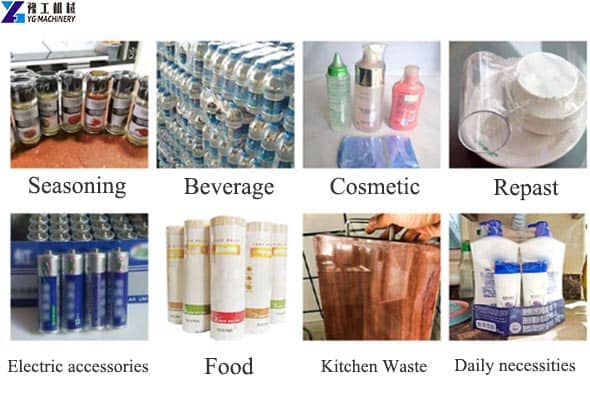 Bottle Shrink Wrapping Machine Working Process
Set the machine heating time to heat the machine.
Wait until the red indicator light of the temperature control meter lights up to reach the temperature rise, then turn on the hot air blower switch.
Poke a few small holes in the plastic bag with the mineral water bottle to be shrunk
Put the mineral water bottle from the inlet of the bottle shrink wrapping machine on the conveyor chain in sequence, and shrink wrap it automatically.
Check whether the shrink-wrapped product has achieved the shrinkage effect, otherwise, the temperature and the voltage of each heating tube should be readjusted until the shrinkage effect is achieved, and then it can work normally.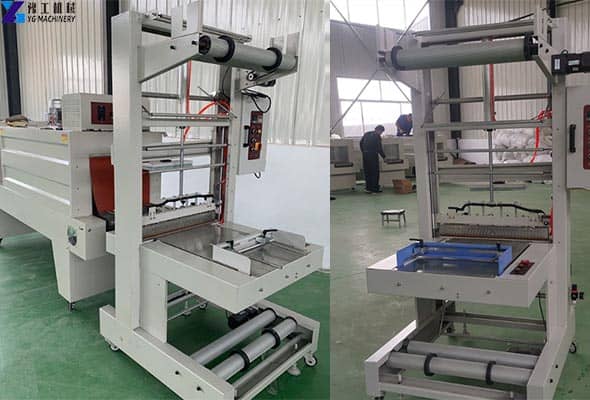 PET Bottle Hot Shrink Wrap Machine Structure
As shown in the figure, the PET bottle shrink wrap machine is mainly composed of two parts, the film coating machine, and the thermal heat shrink machine. The following is the specific structure and composition of the coating film machine and heat shrinking machine.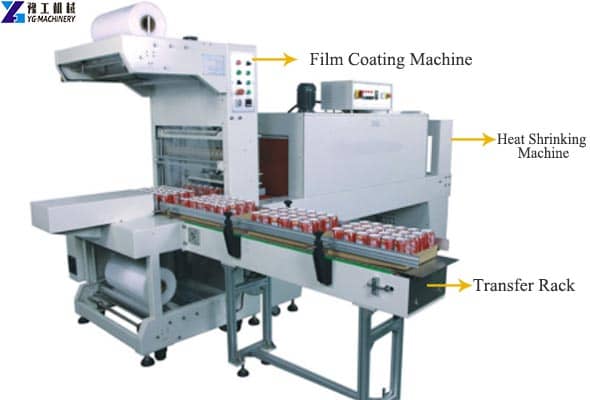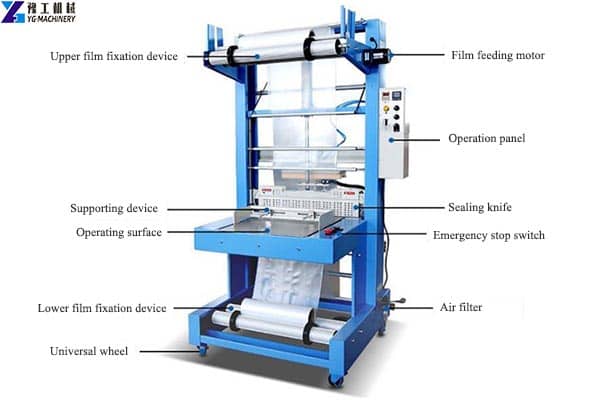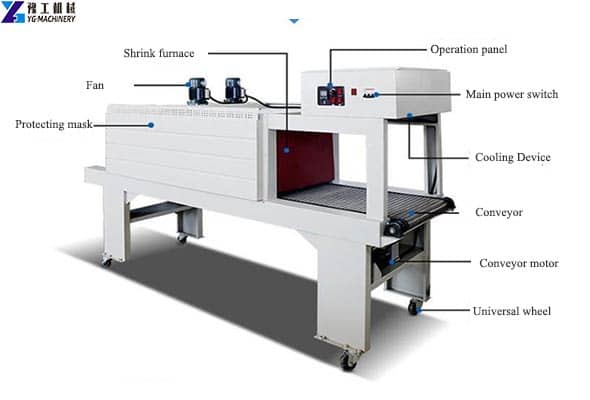 Bottle Wrapping Machine Features
The packing speed is fast, 30 packs can be packed in one minute.
Automatic packaging systems, sealing, cutting, and shrinking can be completed at one time, realizing efficient automatic operation.
The electronic speed controller is used to automatically adjust the speed according to the demand.
The heat shrink packaging machine adopts a high-quality copper wire motor, which has a long service life and is more durable.
Using stainless steel heating tube, the heating is uniform, the shrinkage effect is beautiful and smooth.
The sealing and cutting knife is coated with Teflon, so the sealing will not crack or coke.
This PET bottle wrap machine is suitable for packaging regular or irregular items.
Using infrared direct heating, the shrinkage does not affect the quality of the packaged items and can shrink the package perfectly.
Constant temperature sealing knife, strong sealing, beautiful.
Energy saving and power saving, support PE shrink film.