A biodegradable film blowing machine is automatic equipment designed by YG especially for making biodegradable films from biodegradable materials. The biodegradable blown film extrusion machine can combine with the printing machine(flexographic printing machine or gravure printing machine) and the biodegradable bag-making machine to form a plastic bag making line. The biodegradable film can be used to make packaging bags, agricultural mulch films, garbage bags, and other products. A high-speed biodegradable film blowing machine is the best equipment for the continuous production of high-quality, high-yield biodegradable film.
Overview of Biodegradable Film Blown Machines:
Degradable materials: corn starch, PLA polylactic acid, PBAT bio-based degradable materials.
Finished products: LDPE, HDPE, LLDPE, and other plastic films
Production steps: molten material, extrusion, film blowing, drawing, coiling
Application industry: food packaging, printing, garment packaging, industrial packaging, agricultural mulch, etc.
Matching equipment: printing machine, plastic bag making machine.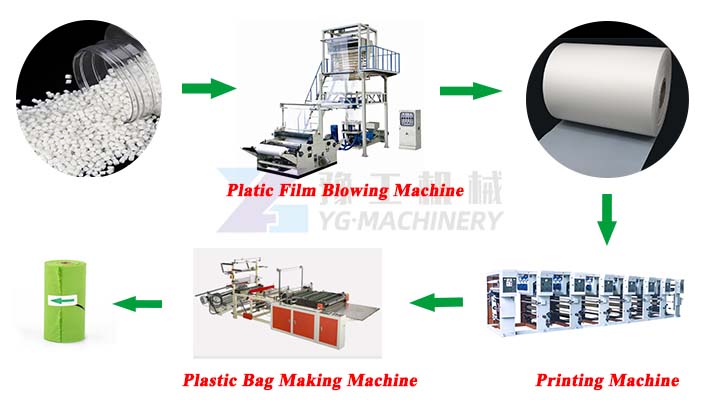 Blown Film Application
Degradable plastic films are currently mainly made of PLA and PBAT as the main raw materials. These two materials are fully degradable plastics with good impact resistance and tensile and elastic properties. In addition to being widely used in disposable films, express packaging, and other fields, biodegradable plastics can also be used in agricultural mulching films, textile fibers, plastic tableware, automotive industry products, and other fields.
Related: Conventional PE Bag VS Biodegradable Plastic Bag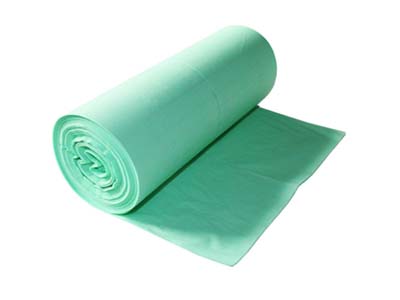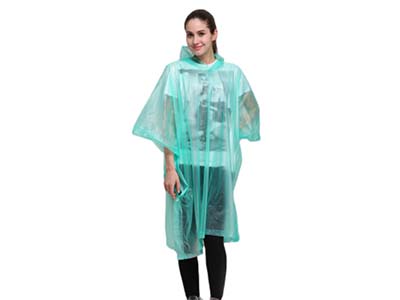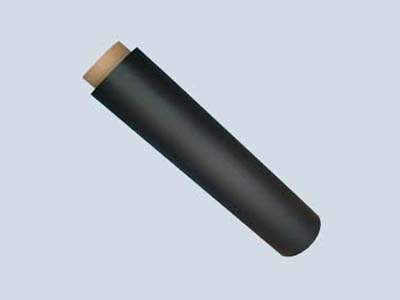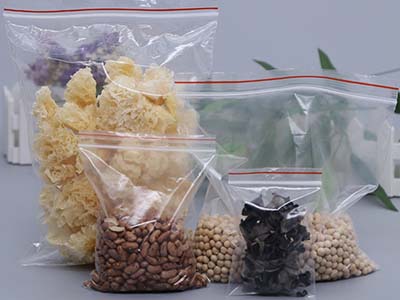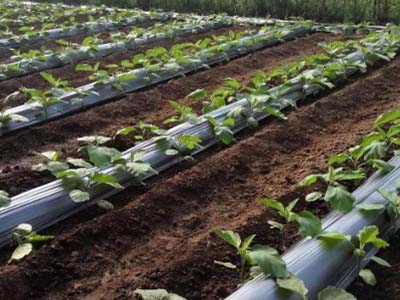 The Composition of the PLA PBAT Plastic Film Blowing Machine
The plastic film blowing machine is mainly composed of an extruder, die head, die head, cooling device, foam stabilization frame, herringbone plate, traction roller, coiling device, etc.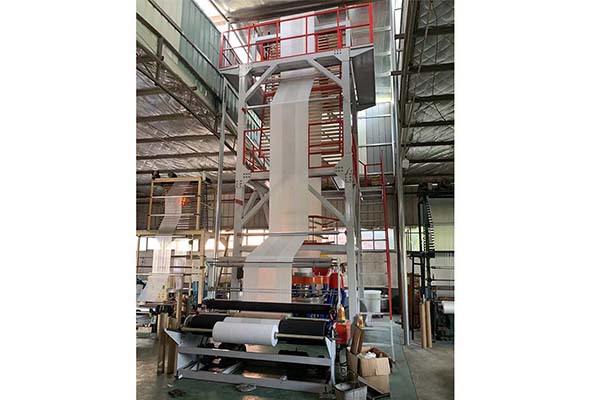 The extruder uses a screw conveying to extrude the molten plastic pellets from the die head. The device includes a screw, barrel hopper, deceleration, and drive motor. Its cooling device cools the molten plastic particles to facilitate the next process. The traction roller includes a traction frame, herringbone board, traction roller, traction motor, and other main components. It draws the produced plastic film and rolls it into a roll.
How to Produce the Degradable Plastic Film?
First, put the dried polyethylene particles into the lower hopper, and the particles are pushed forward by the screw of the degradable film blowing machine. During the advancing process, friction occurs between the plastic particles, the screw, and the barrel, and the heat generated heats and melts the plastic particles. The molten plastic flows out of the die, cools, and blows into shape. Finally, it is pulled by a tractor and rolled into a roll to complete the production of the degradable plastic film.
Machine display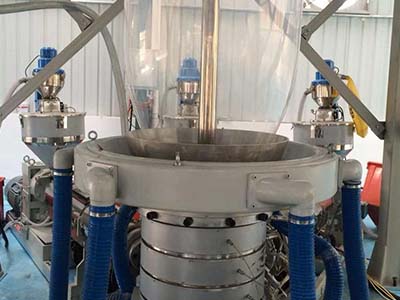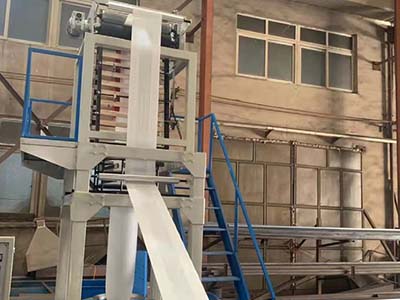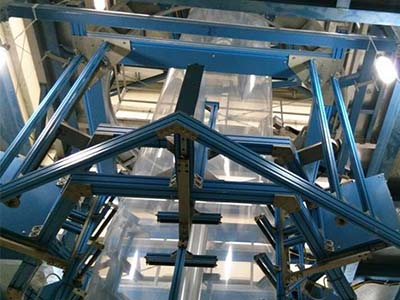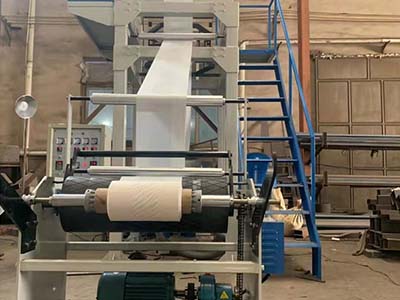 biodegradable film blowing machine Parameters
| | | | | |
| --- | --- | --- | --- | --- |
| Model | A50 | A55 | A60 | A65 |
| Screw diameter | Ф50 | Ф55 | Ф60 | Ф65 |
| Film diameter(mm) | 100-600 | 200-800 | 300-1000 | 400-1200 |
| The thickness of one side of the film(mm) | 0.008-0.06 | 0.008-0.06 | 0.008-0.06 | 0.008-0.06 |
| Max capacity(kg/h) | 25-30 | 35-40 | 60-65 | 65-70 |
| Aspect ratio | 28:1 | 28:1 | 28:1 | 28:1 |
| Main machine Power(kW) | 11 | 15 | 18.5 | 22 |
| Traction motor power(kW) | 1.1 | 1.1 | 1.5 | 1.5 |
| Heating Power(kW) | 13 | 19 | 21 | 23 |
| Machine size(mm) | 5000×2000×4200 | 5200×2200×4500 | 5500×2500×5200 | 5800×7800×5300 |
| Weight(T) | 1.3 | 1.5 | 1.7 | 2 |
Features of Degradable Blown Film Extrusion Machine:
Fully automatic, one blow molding, high degree of automation, good blowing effect.
The barrel and screw of the extruder are made of alloy steel, which is nitrided and precision processed, with high hardness and corrosion resistance.
Widely used for blowing PLA, PBAT, PVA, and other biodegradable plastic films.
There are single-layer and multi-layer film blowing machines, and the blown bags have good color and firmness.
Rewinding adopts a torque motor, which can maintain proper tension, neatly rewinding, and easy to change the reel.
With a variety of screw models, it can match the corresponding plastic bag making machine.
The biodegradable film blowing machine can be used with a printing machine and plastic bag making machine to form a bag making production line.
Related Posts