Automatic high-speed T-shirt bag making machine (vest bag making machine) is a bag making machine developed for making supermarket shopping bags and vest bags. The equipment mainly uses HDPE, and LDPE tube film as raw materials for printing, sealing and cutting, and bag making. This machine can equip with a plastic film blowing machine. It can complete feeding, back sealing, cutting, punching, and conveying at one time, with a high degree of automation. It is an ideal equipment for the production of vest bags and flat bags.
What is a Vest Bag (T-Shirt Bag)?
The vest bag is also called the T-shirt bag, which is the plastic bag that we often use in our daily shopping. It can be seen in supermarkets, farmers' markets, convenience stores, etc. There are three types of vest bags, large, medium, and small, as well as medium and large vest bags.
Finished Product Display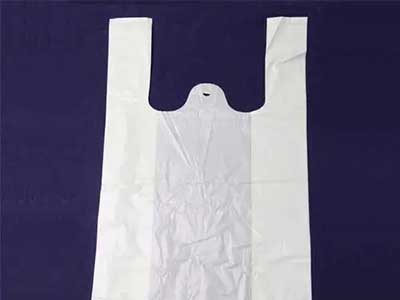 How to Make a Vest Bag?
The production process of vest bags includes film blowing, printing, sealing and bag making, and other processes.
Blown film. Blown film is a process in which a plastic sample is heated and melted, passed through an extruder base, and then blown into a film. Blown film has special blowing film equipment. Generally speaking, high-density polyethylene or low-density polyethylene can be used for blown film. But high-density polyethylene is durable and resistant to high temperatures. Therefore, many bag manufacturers usually use high-density polyethylene as the raw material to blow the film.
Printing. This step is necessary if you want to print a pattern on the surface of the plastic bag. Printing quality is affected by factors such as ink, thinner, layout, printing technology, etc.
Seal and cut bags. The T-shirt bag making machine includes the process of bonding and cutting the blown film. It is usually done using an automated vest bag making machine. The automatic vest bag making machine can complete feeding, back sealing, cutting, punching, and other processes at one time.
Parameters of T-shirt Bag Making Machine
| | | |
| --- | --- | --- |
| Machine type | Main machine | Auxiliary machine |
| Model | YG-350 | YG-350-B |
| Bag making length | ≦600MM | |
| Bag making width | ≦300MM | |
| Bag making thickness | 0.005-0.15MM | |
| Bag making speed | 50-200PCS/MIN*4 | |
| Pressure range | 2-6Mpa | 2-6Mpa |
| Total power | 11KW | 2.1KW |
| Power source | 380V/50HZ | 220V/50HZ |
| Machine weight | 1000KG | 900KG |
| Machine size | 2.5*1.37*1.8M | 2.05*1.44*1.8M |
The above are some parameters of the vest bag making machine and the auxiliary machine of the punching machine. The main plastic bag making machine first folds the plastic film and cuts it into square or rectangular bags. Finally, the auxiliary machine cuts off the part of the head to make a vest bag.
T-shirt Bag Making Machine Characteristics
This equipment is designed for customers who make vest bags. Using an intelligent computer control system, the length and production speed of the bag can be customized.
One-time molding, fully automatic operation, fully automatic folding and conveying, reducing manual packing, and improving production efficiency.
Install an automatic shutdown device without material to reduce loss.
The sealing is done eagerly and synchronously, without tension, and the back cover is firm and beautiful.
Adopt a gas-liquid booster cylinder punching machine, with low noise and small displacement.
The punching structure adopts full servo control to ensure punching precision, fast, and stability.
Related Posts