The plastic lid forming machine (cup bowl lid making machine) uses blow molding or blister molding to make plastic sheets into plastic cup lids of various shapes and sizes. Plastic cup lids are suitable for making coffee lids, tea lids, milk tea lids, bowl lids, and other shapes of plastic lunch boxes. The plastic cover making machine can match with a paper cup machine, paper bowl machine, etc. The whole production process has gone through the process of forming, punching, punching, fully automatic transportation, and so on. Advanced technology and simple operation ensure the production quality of the plastic cup lid.
Applicable Raw Materials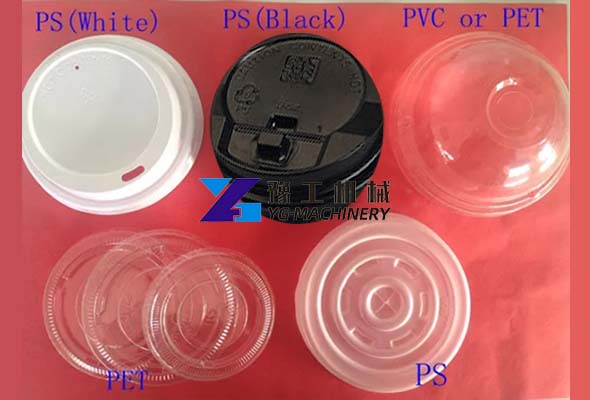 The plastic bowl cup cover making machine is widely used for processing BOPS, HIPS, PS, PVC, PET, PLA, and other plastic sheet molding. It is a multifunctional plastic packaging product production machine. It can produce various boxes, dishes, trays, bowls, lids, and other products. For example, plastic lunch boxes, oral liquid trays, cake boxes, coffee covers, milk tea covers, and many other products.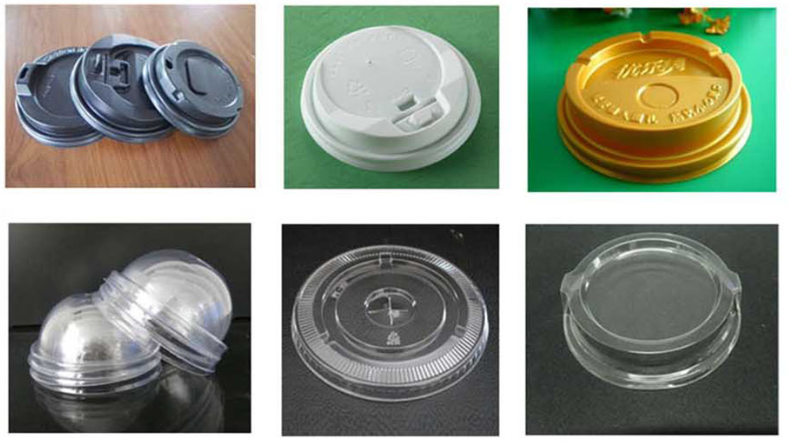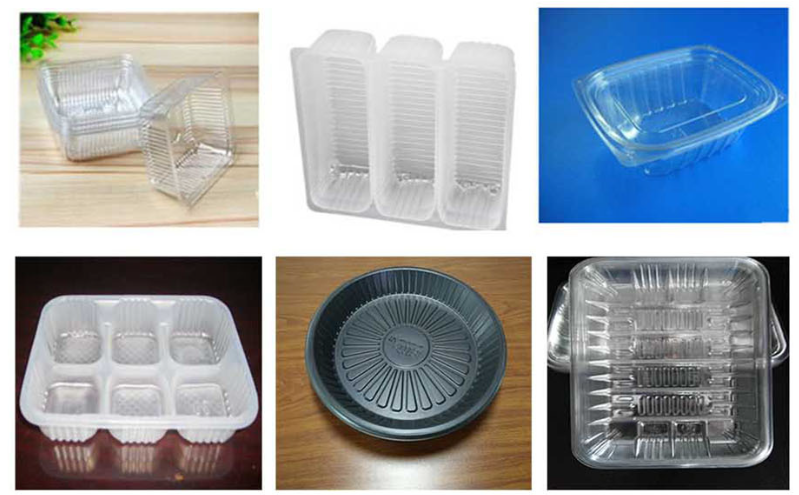 Plastic Cup Lid Forming Machine Parameters
| | |
| --- | --- |
| Punch speed | 15~35 (times/min) |
| Max forming area | 470*290mm |
| Max forming depth | 47mm |
| Stroke | 60~300mm |
| Material | HIPS、PS、PVC、PET plastic sheet |
| Total power | 11.5kw |
| Compressed air | 0.6~0.8MPA |
| Molding cooling | 60L/H tap water/recycle water |
| Overall dimension | 3.5*1*1.8m |
| Weight | 2400kg |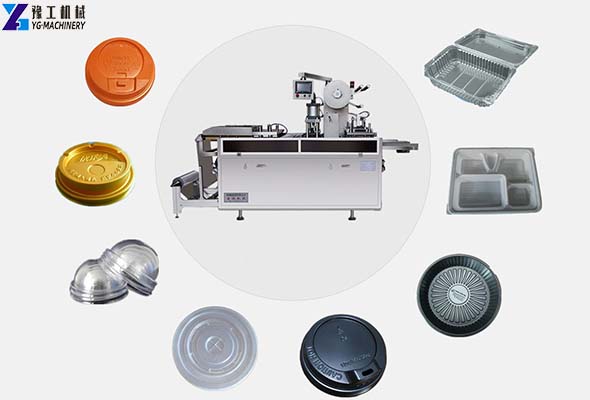 How Are Plastic Cup Lids Made?
This plastic cup lid making machine is an automatic integrated thermoforming machine. It can realize one-time completion from sheet feeding, heating, forming, punching to punching. The rolled plastic sheet is placed on the reel, and the sheet feeding device of the cup lid maker conveys the sheet to the forming part. The pattern on the mold is obtained on the sheet by thermoforming. The debossed pattern is punched from the entire sheet by punching equipment. The die-cut lids are collected by conveying, and the die-cut sheets are collected by a recycling device.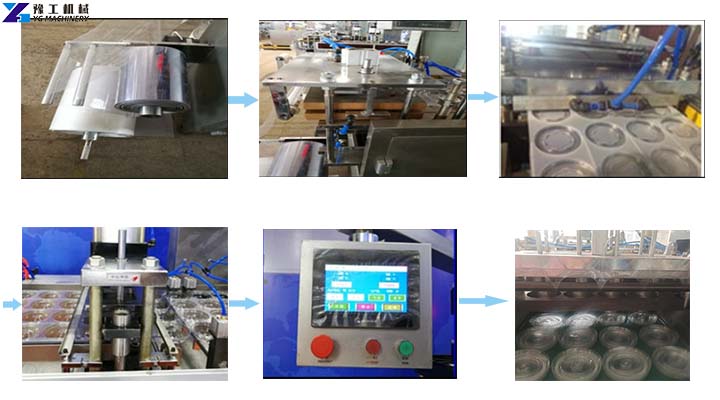 Disposable Cup Bowl Lid Making Machine Features
Five-station simultaneous production of unwinding, forming, punching, punching, cutting, and rewinding, simple operation, and high production output.
Realize GMP/QS dual standard dust-free purification production, improve product hygiene and safety, and solve cross-contamination.
Suitable for a wide range of raw materials and finished products, processing of HIPS, PS, PVC, PET, and other plastic sheets.
PLC man-machine interface operation, visual operation, simple operation.
The stroke is adjustable, the mold replacement is easy, and the mold can be customized according to customer needs.
Special feeding device and blanking device to save electricity and materials.
Stepless speed regulation, mechanical hand traction, reliable operation.