The tyre recycling plant is a complete production line for recycling waste tires using a series of tire recycling machines. From waste tires to rubber powder, it mainly goes through ring cutting, crushing, magnetic separation, crushing, grinding, packaging, and other operations. Because the final product of this production line is rubber powder, it is also called rubber powder plant. The waste tyre recycling plant has semi-automatic and fully automatic production line specifications. Therefore,it can meet the needs of large, medium, and small customers.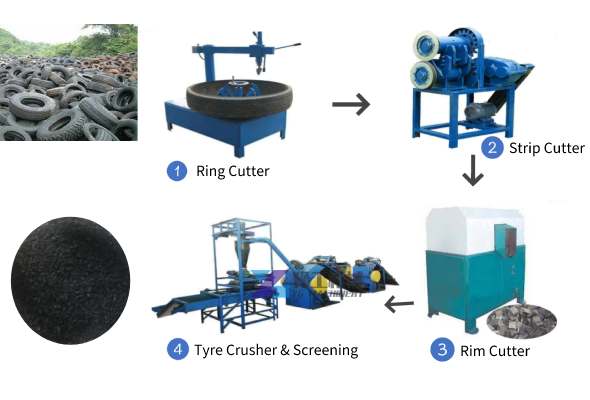 Tyre Recycling Plant Overview
Processing materials: waste tires, steel wire tires, nylon fiber tires, engineering tires, rubber soles, and other rubber products
Production capacity: 200~1000kg/h and other production lines with different outputs can also be customized according to customer needs.
Ancillary equipment: Tire ring cutting machine, strip cutting machine, tire block cutting machine, wire extrusion machine, tire double-roll rubber powder machine.
Finished product specifications: It can produce rubber powder of various specifications such as 10~100 mesh.
Equipment automation: YG provides semi-automatic and fully automatic recycling equipment.
Finished product use: The rubber powder produced by the rubber powder production line has a uniform particle size. And the processed granule finished product can be used to make runways, floor tiles, floor mats, and other products.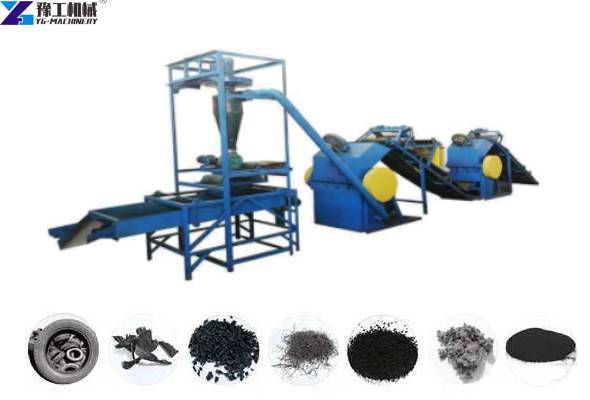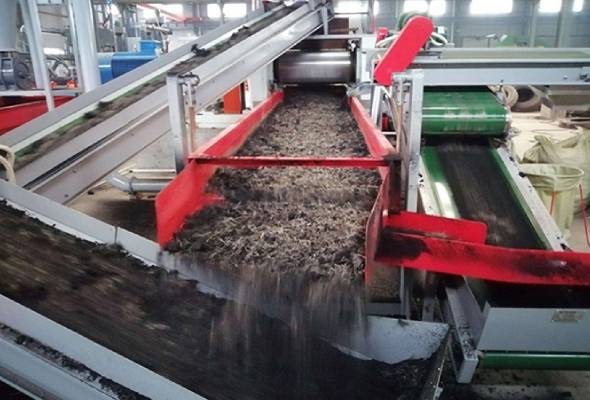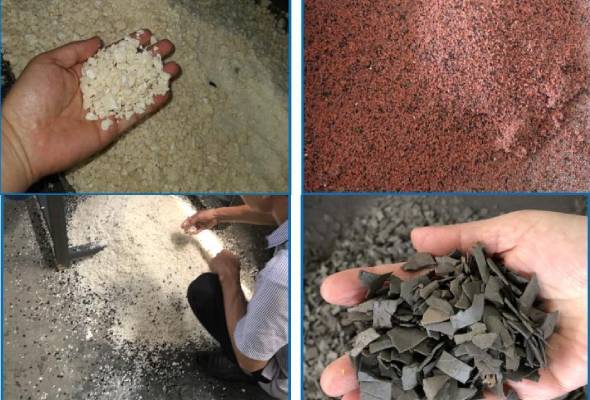 Why Process Waste Tires Into Rubber Powder?
The treatment methods of waste tires include tire retreading, production of reclaimed rubber, processing of rubber powder and tire cracking, and other methods. Among them, the production process of processing waste tires into rubber powder is the simplest and environmentally friendly way. The produced rubber powder can be used for runways, playground equipment construction, rubber floor tiles, etc. The effect of adding rubber powder to asphalt products at high temperatures for paving roads and roof waterproofing will be better. Therefore, processing waste tires into rubber powder is currently popular in many countries.
Waste Rubber Tire Recycling Process
From waste tires to rubber powder, it has gone through three major steps: tyre shreds, separation of impurities, and tire grinding. The first step is to break the entire large tire into slightly smaller pieces for easier processing. Because tires are not only made of rubber but also fibers, steel wires, and other things. Therefore, impurity separation is required after crushing to obtain pure rubber. Finally, put the rubber block into the grinder and grind it into the required fineness of rubber powder.
The specific tire recycling process is tiring ring cutting, strip cutting, block cutting, rubber grinding, screening, and bagging.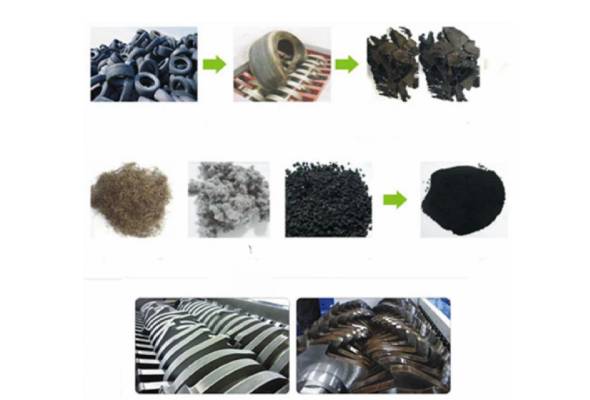 Scrap Tire Recycling Machine and Its Use
Tire ring cutting machine: It is mainly used to cut off the ring part of the tire and cut off the inner ring. The part with steel can be separated by a steel separator, cut, and then ground.
Tire strip cutting machine: This equipment is used to cut tire rims into strips. It cuts large tire rims into strips for easy processing. The double disk knife of this equipment adopts a special metal heat treatment, which is strong and durable.
Tire cutting machine: This machine is based on the previous step to cut strips of tire rubber strips into certain size blocks. The tires cut into small pieces are convenient for the next step. The blade of this device is made of alloy which is affordable and durable.
Tyre Crusher: The small tire blocks obtained in the previous step are sent to the tire crusher through the conveyor belt to be broken into finer rubber powder. After this step, you can get 10~120 mesh rubber powder.
Magnetic separator: The crushed rubber powder may contain a small amount of steel and nylon. Therefore, it is necessary to use a magnetic separator and a nylon screening machine to screen out steel and nylon to obtain pure rubber powder.
Packing Machine: The last step is to bag the crushed and screened rubber powder.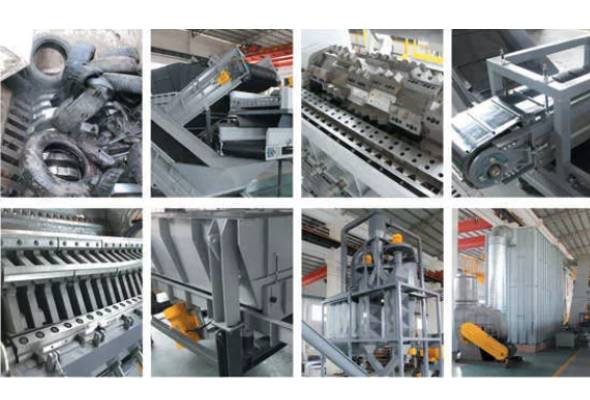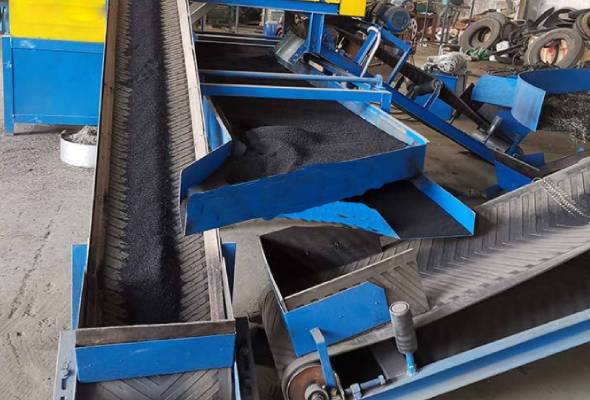 Note: The tire recycling equipment listed above is not the only equipment of choice for tyre recycling. In fact, YG Plastic Machinery Manufacturer can customize according to customers' needs. YG also provides tire strip cutters, rubber breakers, tire wire drawing machines, tire shredding machines, vibrating screens, etc. for tire recycling.
Advantages of Waste Tyre recycling plant
A variety of production line options can meet the needs of large, medium, and small tire recycling plants. YG provides semi-automatic and fully-automatic equipment with output ranging from 100~2000kg/h.
This production can process 10~100 mesh rubber powder. No matter how fine the finished product you want to process is, our products can meet it.
Install a cold water system, the finished rubber powder will not agglomerate
All tire recycling equipment is developed by YG absorbing the world's advanced technology, with a low degree of automation and labor-saving.
The particle size of the finished rubber powder is uniform, and the finished granules after processing can be used to make various finished products such as runways, floor tiles, and carpets.
The tire recycling equipment in tire recycling plants has the characteristics of compact structure, advanced technology, low energy consumption, and high efficiency.
YG tyre recycling machine manufacturer has a variety of tire recycling equipment to choose from, such as tire strip cutting machines, tire wire drawing machines, tire ring cutting machines, etc., which can be used for rubber powder production.