The PET bottle blowing machine is developed along with the packaging industry. And it is specially used to manufacture PET bottles of different shapes and sizes. The two-step method is often used in the market today to produce PET bottles. First, use the PET preform machine to make PET preforms, and then use the plastic bottle making machine to blow the preforms. This multi-purpose PET blow molding machine is widely applied in the production of various shapes of bottles. Such as mineral water bottles, medicine bottles, cosmetic bottles, wide-mouth bottles, etc. It has various models of equipment such as semi-automatic and fully automatic, and the molds can be customized. Yugong pet bottle blowing machine manufacturer also provides various supporting equipment such as tube blank mold, bottle cap mold, bottle blowing mold, drinking straw making machine, and so on.
plastic bottle molding workflow
The entire PET bottle production process mainly includes: embryo making, preheating, bottle blowing, demoulding, and other processes.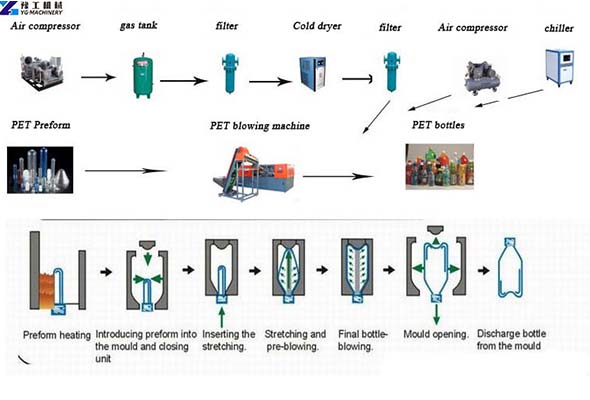 Embryos. First, use the PET preform machine to make PET raw materials into plastic preforms.
Preheating. In order to shape the PET preform according to the shape of the mold, the preform needs to be heated first. The body part of the PET preform is heated, and the bottle mouth part is kept cool.
Blow the bottle. Put the uniformly heated preform into the machine mold, and blow sterile high-pressure air into the preform. With the blowing of high-pressure air, the preform extends around until it extends into the shape of the mold.
Demoulding. After blowing the bottle, the machine starts to exhaust and demould. The blown PET bottle is ejected from the machine as the mold is opened.
The above is the entire production process of PET bottles from raw materials to finished products. The finished PET bottle can then go to the next process, such as mineral water filling.
Application field of pet bottle blowing machine
With the development of the plastic packaging industry, the rapid development of blow molding machines has driven the development of other packaging industries. The plastic hollow containers made by the PET blow molding machine have gained unique advantages in lightweight, low price, and variable shapes. Therefore, PET blow molding machines have been widely used in the packaging of food, medicine, daily chemicals, and other industries. A variety of customized mold options allow the PET blow molding machine to be used in the production of jars, space cups, cosmetic bottles, mineral water bottles, pesticide bottles, and other bottles.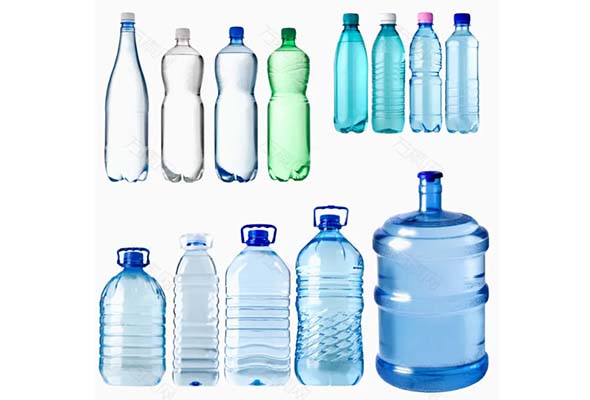 What are the raw materials used to make PET bottles?
PET bottles are mainly produced using PET as the main raw material. The raw material of PET bottles is PET resin, which is a plastic polymer material. Its full name is polyethylene terephthalate, abbreviated as PET plastic material. It is a polymer produced by combining terephthalic acid and ethylene glycol. PET bottles have the characteristics of high transparency, lightweight, impact resistance, and are not easy to break.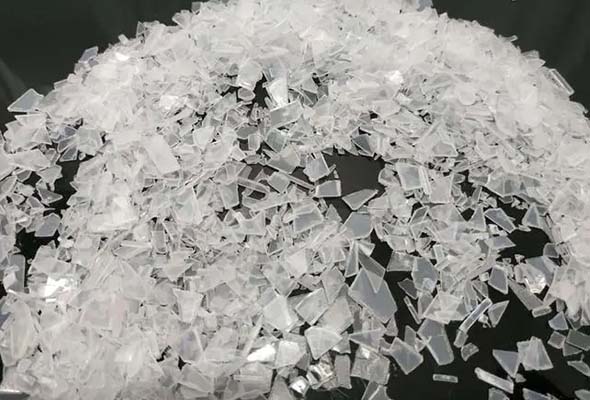 Advantages of two-step production of PET bottles
At present, the production of PET bottles on the market often uses a two-step process. Instead of making PET raw materials into PET bottles at one time, it first makes PET raw materials into an intermediate, that is, PET preforms. Then the PET preform is made into a plastic bottle according to the shape of the mold. Using the two-step method to make PET bottles can effectively avoid the waste of raw materials and improve the molding rate of finished products. First, make PET bottles into preforms, then check the shape of the preforms, and pick out the bad ones. This effectively avoids the continued processing of bad finished products.


Semi-automatic and fully automatic PET bottle blowing machines
Yugong PET bottle blowing machine manufacturer offers two kinds of PET blow molding machines with different automation, semi-automatic and fully automatic equipment. Moreover, each type of equipment includes multiple types of equipment.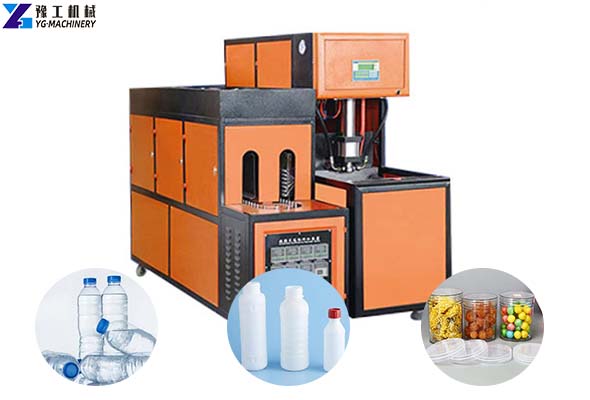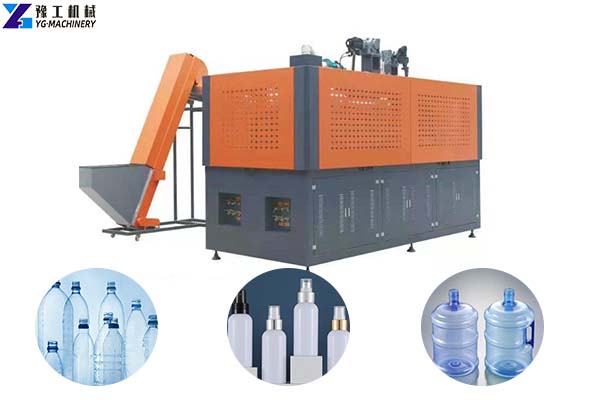 YG-Reliable plastic bottle making machine manufacturer
Yugong is a professional manufacturer of plastic processing machines. Yugong's plastic processing machinery products mainly include plastic bottle molding machines, blow molding machines, plastic bag making machine, plastic film making machine, plastic container machines, and other plastic product processing equipment. Yugong not only provides equipment solutions, but we also provide supporting equipment for plastic products and molds, and other products. Yugong's plastic products have been exported to India, Malaysia, the Philippines, Algeria, France, Singapore, Venezuela, and other countries and regions. And Yugong plastic processing machinery has been well received and returned by customers.
pet bottle blowing machine accessories
In addition to various types of blow molding machines, Yugong also provides other related supporting equipment. Such as bottle blowing molds, preform making molds and cap molds, and other equipment. Moreover, Yugong bottle blowing machine manufacturers can also customize plastic molds according to specific production needs. Therefore, if you want to know the details of PET bottle blowing machines and molds, please contact us.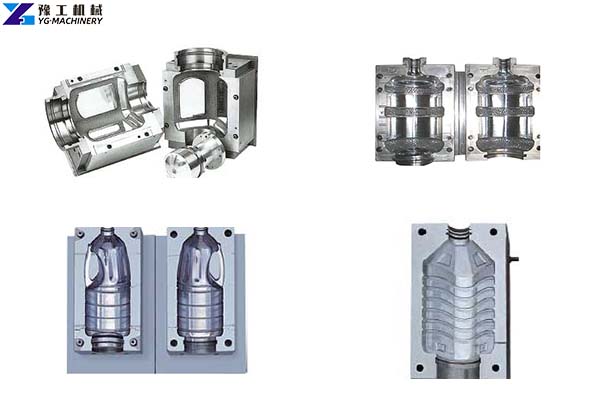 Related Posts