PET bottle washing line is a production line for recycling and crushing waste plastic bottles. Waste plastic bottle recycling washing machine can sort, de-label, crush, clean, and dry PET plastic bottles such as waste mineral water bottles, beverage bottles, oil bottles, etc. The PET bottle flakes recycling machine is the equipment developed and produced by our company with the introduction of internationally advanced technology, which is specially designed for recycling all kinds of PET bottles. The PET bottle washing line has the characteristics of a high degree of automation and a high recovery rate. YG provides a complete set of equipment for plastic bottle production and recycling, please contact us for specific details.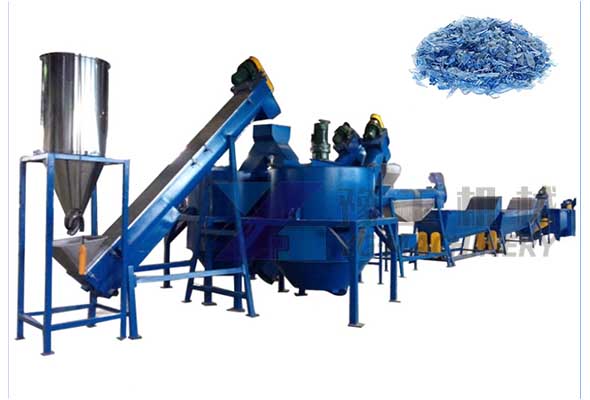 PET Bottle Washing Line Overview
Product introduction: The PET bottle washing recycling line is mainly used to recycle PET plastic bottles, and carry out operations such as de-labeling, crushing, cleaning, and drying plastic bottles;
Main machines: It mainly designs conveyor belts, stripping machines, pulverizers, rinsing machines, dehydrators, and other equipment;
Processing capacity: 300~5000kg/h;
Services provided: customized solution services, perfect pre-sale, in-sale, and after-sale services;
Finished product: blue and white bottle flakes, green bottle flakes, pure white PET bottle flakes; humidity below 1%, impurities below 100ppm
Reprocessed products: polyester fiber, making clothing, plastic products (non-food grade), oil refining, etc.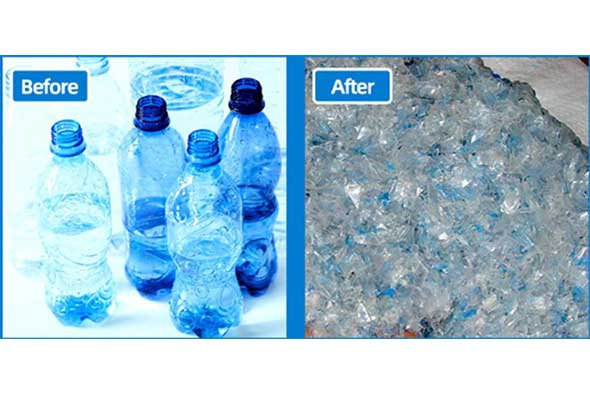 PET Bottle Recycling Washing Step
The cleaning and processing of PET bottles mainly go through several steps such as sorting, de-labeling, crushing, pre-washing, main washing, rinsing, and drying.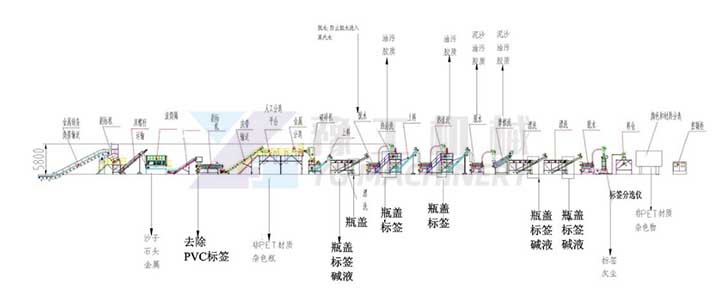 Whole Set of PET Bottle Washing Recycling Machine
| | | | |
| --- | --- | --- | --- |
| Number | Machine Name | Model | Power |
| 1 | Conveyor | 4m | 1.5KW |
| 2 | Bottle Labeling machine | 4.5m | 15KW |
| 3 | Conveyor | 5m | 2.2KW |
| 4 | PET plastic crusher | | 22KW |
| 5 | Washing tank | 5m | 4KW |
| 6 | PET friction washing machine | 5m | 4KW |
| 7 | Dehydration machine | 3m | 11KW |
The complete set of PET bottle washing and recycling equipment includes a conveyor belt, stripper, sorting agent, conveyor belt, crushing agent, cleaning tank, spiral ascending agent, cooking pot, friction machine, twin-screw cleaning machine, horizontal dehydrator, steamer, Storage silo, control system.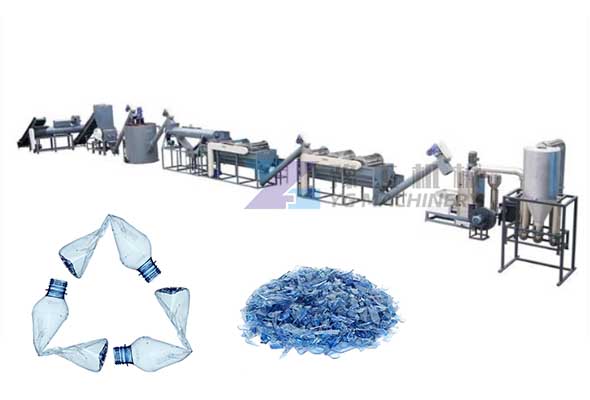 About Plastic Bottle Recycling
The plastic bottle contains three parts, the plastic bottle body, the bottle cap, and the trademark. The bottle cap is generally made of HDPE material, the bottle body is made of PET material, and the trademark is also non-PET material. Therefore, the cleaning and recycling of plastic bottles are generally to remove the caps and trademarks of non-PET materials and then retain the bottle body containing PET materials, and finally obtain PET flakes. The recycled PET flakes can be reused and used to make clothing fibers, or It is a recycled bottle.
Plastic Bottle Flakes Washing Recycling Process
Sorting plastic bottles
The sorting step is mainly to sort out impurities such as miscellaneous bottles, miscellaneous-colored bottles, and plastic films in waste plastic bottles. If the sorting step is not clean, then the cleaning process will not produce very good PET flakes.
Removing the label
This step is to remove the label from the plastic bottle. Since the trademark is generally different from the PET material, the trademark needs to be removed to obtain pure PET flakes. Removing the label on the PET bottle can be achieved by a manual or automatic de-labeling machine.
Crush plastic bottles
The entire plastic bottle was shredded into sheets using a plastic shredder. Since the plastic bottle caps are crushed along with the PET bottles, the crushed PET sheets contain non-PET material plastic bottle cap fragments.
Washing
The washing step is the most important step in the PET bottle flakes washing line, so it needs to go through cleaning steps such as pre-wash, main wash, and rinsing. The pre-wash process is generally to remove easily removable stains adhering to the surface of the bottle. If this process is done well, it can reduce the burden of the main washing process and reduce costs. The main washing process is to remove hard-to-remove stains such as oil stains and glue. The rinsing process has two functions, one is to rinse out the remaining floating material, and the other is to rinse off the cleaning agent adhered by the bottle maker.
Drying and dehydration
After cleaning, the PET sheet needs to be dried and dehydrated to meet the dry storage requirements.
PET Bottle Flakes Washing Line Features
The PET bottle flakes washing line is widely used in the cleaning and recycling of PET bottles such as beverage bottles, mineral water bottles, and cola bottles. After cleaning and recycling, these PET bottles can be reused as PET material.
YG provides several production lines with different production capacities and cleaning requirements, the output of this production line is 300~2000kg/h.
The cleaned and recycled PET sheets can be directly sold, drawn, made of plastic pellets, and blown.
All parts in contact with PET material are made of SUS304, which ensures that the finished product has good quality.
The machine parts in this PET bottle flakes washing line are made of international famous brands, and the machine quality is good.
The humidity of the final product is below 1%, and the impurities are below 100ppm.
This plastic bottle washing recycling machine can equip with optional machines according to customer needs.
In addition, YG also provides equipment such as metal separators, conveyor belts, unpacking machines, and water circulation treatment systems.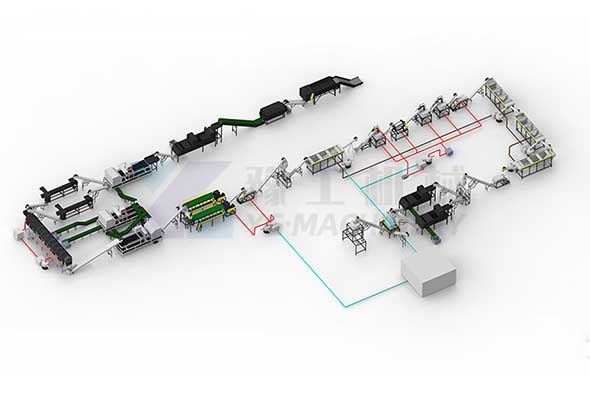 Why Should PET Bottles be Recycled and Cleaned?
PET plastic bottles are widely used in our daily life, which greatly brings convenience to our lives. However, the large number of plastic products produced after use will pollute the environment. Plastic is difficult to decompose in the natural environment, causing pollution to the soil and the environment. Therefore, the recycling of plastic bottles and other plastic products has become a trend. PET bottles are products made of petroleum, and recycled plastic flakes are the main raw materials for replacing petroleum to produce chemical fibers. Therefore, the recycling of PET bottles reduces environmental pollution and excessive consumption of oil. The PET polyester chips produced by the PET bottle washing line are mainly aimed at medium and low-end industrial applications such as chemical fiber staple yarn and non-ferrous melt filling.