The plastic chair making machine provided by YG can produce various shapes of plastic chairs by changing the mold. The plastic bench is directly manufactured by an injection molding machine. Plastic chairs are usually made of PP or ABS materials. The produced plastic chairs are small in size, light in weight, strong in impact resistance, and durable. YG plastic chair molding machine manufacturers not only provide injection molding equipment but also support custom plastic chair molds. Please tell us your needs, we will customize a solution for you according to your needs.
Plastic Chair Finished Product Display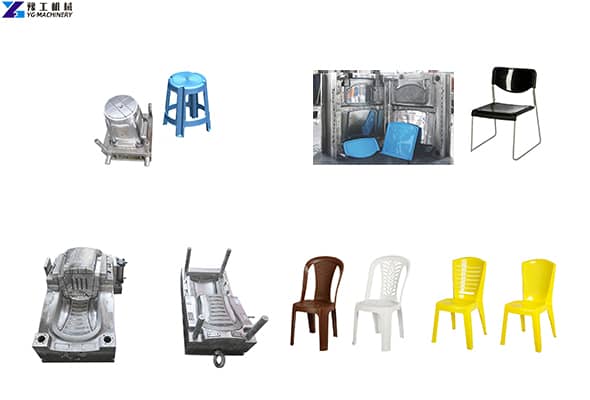 What is the Material Used to Make the Plastic Chair?
The material of plastic chairs is generally PP, and high-end chairs generally use ABS materials. In addition, it can also use PC, PS, PE, PET, and HDPE materials.
PP is a semi-crystalline thermoplastic and one of the lightest varieties of plastics. It has high impact resistance, strong mechanical properties, resistance to various organic solvents, and acid and alkali corrosion. The finished plastic chair made of plastic material has good processing performance and is strong and durable.
ABS resin is one of the five major synthetic resins and is a very versatile thermoplastic engineering plastic. It is widely used in machinery, automobiles, electronic appliances, textiles, construction, and other fields. Because ABS resin has the characteristics of very good impact resistance, heat resistance, easy processing, and good surface gloss, it is usually used to make high-grade plastic chairs.
How are Plastic Chairs Made?
Plastic chairs are direct injection molded using an injection molding machine. A plastic injection molding machine is a device that processes thermoplastic or thermosetting plastics through a mold. Before using the injection molding machine to process the plastic raw materials, you first need to customize the plastic chair molds of different shapes. The thermoplastic or thermoset material is then processed through an injection molding machine into a chair that has the shape of the mold.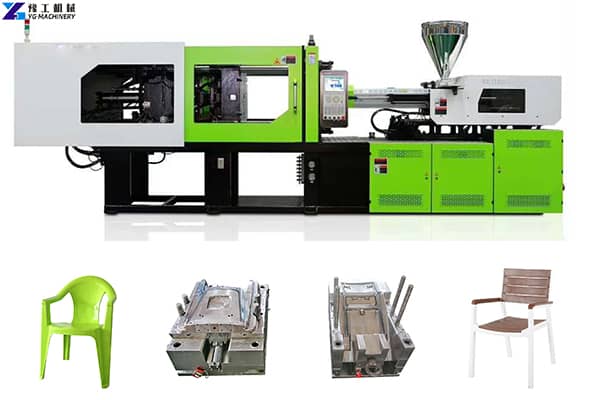 What is the Plastic Chair Making Machine Price?
Due to the variety of injection molding machines, the plastic chair making machines cost varies. Although there are many types of injection molding machines on the market, it is very wise to look at the output of their machines. The higher the capacity of the injection molding machine, the higher the equipment cost. In the same way, the output can also judge the quality of a piece of equipment.
In addition, it is to pay attention to the clamping force of the injection molding machine. If the finished product you produce requires very high precision, please choose equipment with high clamping force. In addition, custom molds can also affect the price of the machine. All in all, there are many factors that affect the price of a plastic chair making machine. If you would like to know the cost of a plastic chair making machine, please contact us for a quote.