The PE zip lock bag making machine can be used to make opp, pe film zipper bags, garment bags, document bags, etc. This machine is an intelligent plastic bag making machine, which adopts a main-machine interface and PLC system control. It has the characteristics of automatic temperature control, simple operation, and firm edge sealing. The zipper bag making machine can also be used to make zip-lock bags, vest bags, plastic bags, flat bags, woven bags, and other heat-cut plastic bags.
Finished Product Display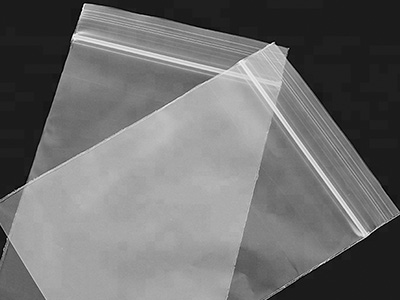 PE Zip Lock Bag Making Machine Production Process
First, prepare the material for making the zipper bag, which is generally a plastic film blown by a plastic film blowing machine.
Wrap the plastic film around the PE zipper bag making machine. Then the bag making machine automatically folds and glues the plastic film.
In the next step, automated equipment will perform clip welding on the folded and bonded films.
The film after the zipper is automatically punched into a finished bag.
What are the Advantages of PE Zipper Plastic Bags?
Since the PE zipper plastic bag is made of PE plastic film, it has various advantages of PE material. The PE zipper bag is light and transparent and has the advantages of moisture resistance, oxygen resistance, acid resistance, high sealing, heat sealing, and other advantages. Therefore, it can be used for packaging parts, snacks, clothing, medicines, cosmetics, and other multi-purpose products. Compared with plastic bags or other materials, PE plastic bags are recognized as the best material for contacting food in the world. It is non-toxic, tasteless, odorless, and meets the requirements of food packaging. The zippered plastic bag made of PE material has the function of storing items, preserving food, and not smelling.
Parameters of Zipper Bag Making Machine
| | | | |
| --- | --- | --- | --- |
| Model | YG-5 | YG-8 | YG-10 |
| High-frequency power | 5KW | 8KW | 10KW |
| Voltage | 380V 50/60HZ | 380V 50/60HZ | 380V 50/60HZ |
| Power | 8KVA | 15KVA | 25KVA |
| Motor interval | 200MM | 200MM | 200MM |
| Active size | 175MM | 175MM | 175MM |
| Welding time | 0~10S | 0~10S | 0~10S |
| Capacity | 4500Frequency/8H | 4500Frequency/8H | 4500Frequency/8H |
| Pressurized method | pneumatic drive | pneumatic drive | pneumatic drive |
| Upper platen size | 400*600 | 500*700 | 700*900 |
| Lower platen size | 500*700 | 600*800 | 800*1000 |
| Size | 1.27*1.57*3.85M | 1.27*1.57*3.85M | 1.27*1.57*3.85M |
| Weight | 900KG | 950KG | 1050KG |
zip lock bag machine parameters
The zipper bag making machine has low power, low power consumption, and energy saving. And one person can operate the equipment to produce zipper bags. It has a short welding time, and high production output and the produced zipper bag has a good shape and no scratches.
Plastic Zip Lock Bag Making Machine Features
Adopt an intelligent operating system to automatically process plastic film forming, one-time forming.
The finished zipper bag has good sealing performance and no obvious scratches and wrinkles.
Electronic counting, multi-speed pulling material, high production efficiency.
Automatic feeding and automatic sliding blocks improve production efficiency, reduce manual intervention and protect plastic bags.
The transmission device uses imported wear-resistant plastic material, which will not scratch the plastic bag.
Equipped with a high-sensitivity overcurrent protection circuit, which can automatically sense and cut off high-cycle suppression sparks to protect the mold.
Diverse functions, suitable for making a variety of plastic bags.