Made of PET material, the container used for packaging pesticides is called a PET pesticide bottle. The equipment used to process PET materials and make PET pesticide bottles is a pesticide bottle making machine (also called a pesticide bottle blowing machine). Do you know the advantages of this PET pesticide bottle for holding pesticides? How to use a pesticide maker to produce pesticide bottles? Yugong pesticide bottle blowing machine manufacturer will introduce you.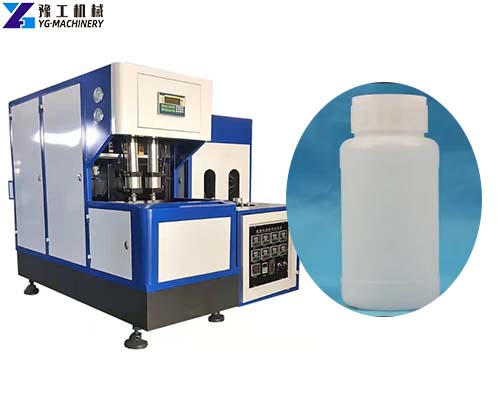 Introduction of PET Pesticide Bottle Making Machine
The PET pesticide bottle making machine is a multifunctional bottle blowing machine with two types semi-automatic and full-automatic. This multifunctional blow molding machine can be used to blow out various PET bottles such as mineral water bottles, oil bottles, daily necessities bottles, cosmetic bottles, and so on. It mainly uses molds to shape PET preforms. By changing molds of different sizes and shapes, the equipment can be used to produce different types of plastic bottles. If you want to know more about the PET bottle blowing machine, please click to view.
Why use PET Material to Make Pesticide Bottles?
Pesticide bottles made of PET have many advantages:
PET material has high strength and is not easy to break. It will not break even if it is bumped or dropped during transportation.
PET material can be directly used for packaging pesticides without washing, drying, and other procedures.
With a variety of colors to choose from, suitable for various characteristics of pesticide packaging. Such as transparent, brown, dark, and other colors.
Recyclable, reduce harm to the environment.
It has the characteristics of corrosion resistance, good sealing, moisture resistance, and hygiene, and is suitable for pesticide packaging.
Various Models of Pesticide Bottle Blowing Machines for Sale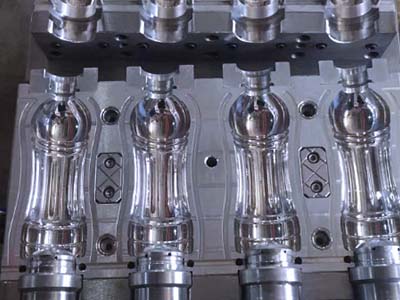 Yugong Pesticide Bottle Blowing Machine Manufacturer offers a variety of specifications and models of pesticide bottle making machines for sale. We provide various specifications of pesticide bottle making machines such as semi-automatic (one-chamber, two-chamber, four-chamber, six-chamber, eight-chamber) and fully automatic (one-chamber, two-chamber, four-chamber, six-chamber). If you want to know more details and machine parameters, please contact us.
Contact YG to Get the Pesticide Bottle Making Machine Price
Yugong plastic processing machinery manufacturer has gradually developed after years of R&D, production and sales. After more than 20 years of development, Yugong Machinery has formed a team of more than 200 people. Among them, Yugong has set up offices in four cities in China. Yugong's production, R&D, manufacturing, sales, and after-sales service have been very perfect. We can provide customized service for your pesticide bottle making machine. And to provide you with perfect pre-sale, sale, and after-sales service. Contact YG Plastic Machinery Manufacturer for a pesticide bottle blowing machine cost.
Related Posts