The mineral water bottle making machine is a device for producing mineral water containers. We often drink mineral water in our daily life. Did you know that mineral water bottles are blown? That's right, it's made by a PET Bottle blowing machine. Yugong plastic processing machinery manufacturer offers semi-automatic and fully automatic plastic bottle making machines. Using the PET mineral water bottle making machine to produce plastic bottles greatly liberates labor and improves production efficiency. If you are looking for a piece of equipment for your mineral water bottle processing business, please contact us.
How are Mineral Water Bottles Made?
There are two ways to make a mineral water bottle on the market. One method is to directly use the automatic blow molding machine to complete the production of mineral water bottles at one time. Another approach is to use a two-step approach. First, process plastic raw materials into plastic preforms by using a preform making machine. Then use the PET mineral water bottle blowing machine to process and shape.


The first method requires fully automatic equipment, which is highly automated and expensive. It is suitable for large mineral water bottle processing plants. The second method uses a step-by-step method to make plastic water bottles, which has a lower production cost. You can buy finished PET preforms on the market and use a PET blow molding machine to produce the finished product. At present, most of the mineral water bottle manufacturers on the market use the second method to make plastic water bottles.
Advantages of Using PET Water Bottles to Hold Mineral Water
PET bottles have strong applicability and are widely used in daily necessities, daily chemical packaging, and other fields. The plastic bottle made of PET material has strong transparency, heat resistance, pressure resistance, and good preservation function. Therefore, PET bottles are widely applied in the packaging of drinking water, mineral water, etc. Used PET mineral water bottles are recycled into plastic pellets. The recycled plastic pellets can be produced into plastic bags, plastic pots, toys, and other products.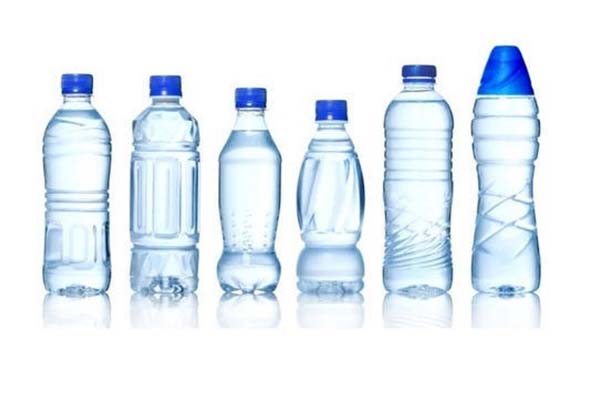 Features of Mineral Water Bottle Making Machine
The blow molding machine has various models, one-cavity, two-cavity, four-cavity, and other outputs. You can choose the right model of equipment according to the size of your business. Click to view all PET blow molding machines molds.
The plastic water bottle made by the mineral water bottle making machine is light and cheap. It has high safety, is convenient and quick, and has a large amount of molding.
This equipment equips with multiple water coolers to cool the bottle mouth to prevent deformation of the bottle mouth when heating the preform.
Adopts the mold forming method, so the mold can be changed to produce PET bottles of different sizes and shapes.
Using the two-step method to first process the plastic into an intermediate. And then mold it to reduce the occurrence of large-scale damage to the finished product.
The machine has stable performance, high production output, and low cost. It is the best choice for small and medium-sized mineral water bottle processing plants.
YG also supplies several supporting equipment to meet the follow-up production, such as mineral water filling machines, drinking straw extrusion machine, and other equipment.
Yugong Machinery Provides Customized Services
Since the equipment uses a mold to blow PET preforms, the shape and size of the mold affect the shape and size of the final product. Therefore, Yugong mineral water bottle making machine suppliers provide customized services for molds. No matter what shape and size PET plastic bottle you need, you can send us your drawing and we will customize the mold style for you.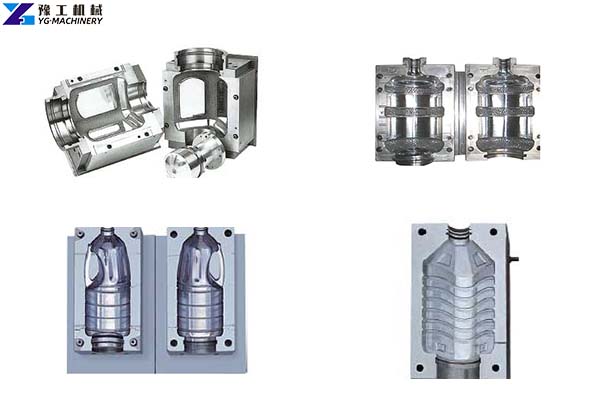 Why Choose Yugong Mineral Water Bottle Maker Supplier?
Yugong Machinery is one of the earliest Chinese manufacturers to develop China's foreign trade. After more than 20 years of R&D, manufacturing, and export, Yugong's foreign trade export system has been very perfect. At present, Yugong has more than 10 production R&D personnel and technical inspection personnel, more than 50 international sales personnel, and more than 10 after-sales quality inspectors. Yugong provides comprehensive pre-sale, in-sale, and after-sale services for international customers. Therefore, choose Yugong mineral water bottle making machine manufacturer provides you with a full range of services.


Contact us For Getting Mineral Water Bottle Maker Quotation
As a plastic processing machinery manufacturer, Yugong Machinery not only provides mineral water bottle blowing machines, oil bottle making machines, and other PET blow molding machines but also other plastic machinery. Such as plastic bag making machines, injection molding machines, plastic film making machines, PE plastic products processing machinery, etc. If you want to know the quotation for the mineral water bottle making machine or the other plastic processing machines' cost, please leave us a message.
Related Posts