PP PE film washing line is equipment for washing recycled PP woven bags, PE plastic films, non-woven fabrics, etc. PP PE film is sorted, broken, and cleaned to obtain clean and tidy small pieces of plastic film. The cleaned plastic film can be extruded and granulated to obtain plastic granules. PP PE film washing recycling line mainly includes a feeding machine, shredder, friction cleaning machine, sink, squeeze dryer, and other equipment. The entire PP PE film washing line realizes automatic production from raw materials to finished products, and it is very convenient to recycle plastic films. YG also provides a plastic film granulation production line, PP woven bag recycling machine.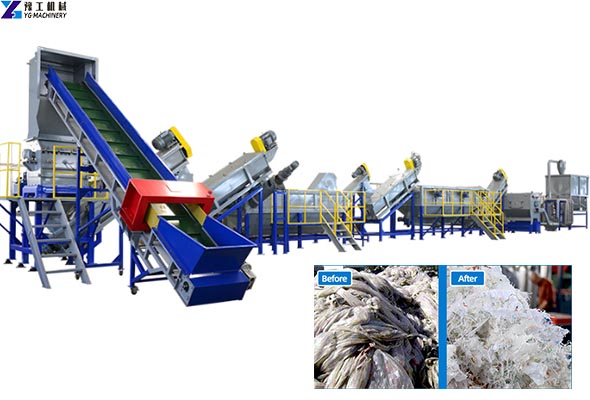 PP PE Film Washing Line Overview
| | |
| --- | --- |
| Name | Plastic PP Woven Bag PE Film Washing and Recycling Line |
| Raw Materials | Plastic PP woven bag, non-woven fabric, PE film |
| Final Product | Plastic Film Flakes |
| Main Machine | Crusher, Screw Loader, Friction Washer, Rinse Tank, Squeeze Dryer |
| Grouped equipment | Granulator, film blowing machine, plastic bag making machine, wire drawing machine, injection molding machine |
| Capacity | 100kg/h~2t/h, other outputs are also available |
| Customized service | Yes |
| Machine Materials | The part in contact with water is made of stainless steel, and the motor is made of internationally renowned brands |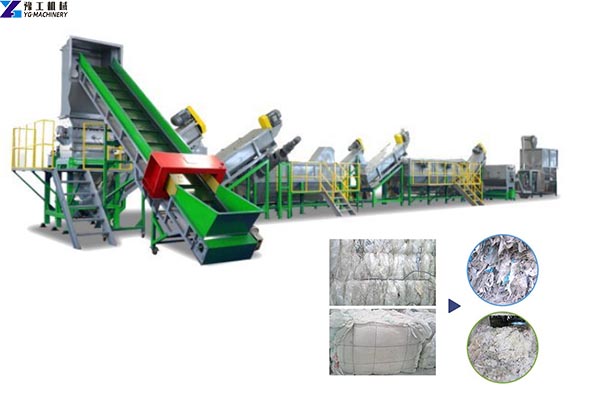 Raw Materials and Finished Product Display
PP PE film recycling plant is suitable for recycling waste polyethylene (PE) or waste polypropylene (PP) and other waste films. Waste polyethylene includes plastic film, greenhouse film, lining bags, packaging film, etc. Waste polypropylene includes PP woven bags, space bags, cement packaging bags, ton bags, chemical raw material bags, etc. The plastic film flakes produced by the PP PPE washing line can be granulated into plastic pellets.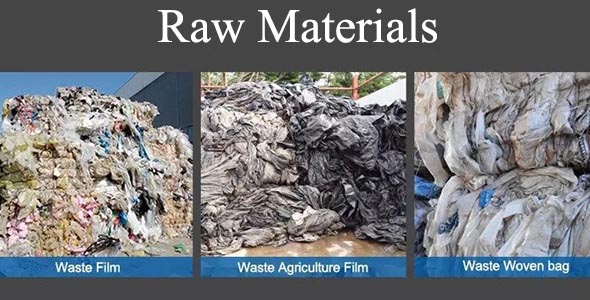 PP PE Film Washing Plant Working Process
PP PE film washing recycling line is roughly divided into four main processes: sorting, crushing, washing, and squeezing. PP PE film washing line includes Conveyor, Crusher, Friction Washing Machine, Rinsing Machine, Squeeze Dryer, and other equipment.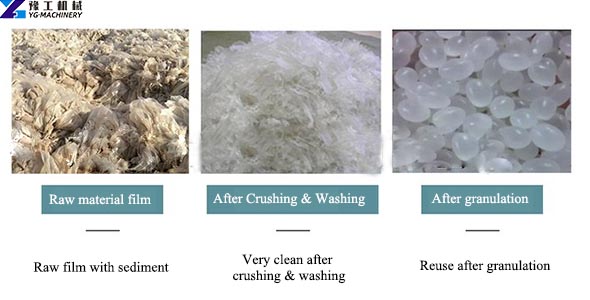 Specific PP PE Film Recycling Machine Introduction
---
Conveyor
The conveyor realizes the transportation of waste PP PE film to the next equipment for processing. The material of the conveyor belt is generally PVC, and the conveying speed can be adjusted. And the sorting function can also be realized in the conveying step.

Plastic Film Crusher
The crusher breaks large, long woven bags, films, etc. into slightly smaller pieces. The blade material DC53 adopts low-temperature treatment and has a longer service life. If the woven bag is broken, there is a special blade for dealing with PP woven bags. The size of the screen can be customized according to the needs, and the special screen changing system is safer and more efficient.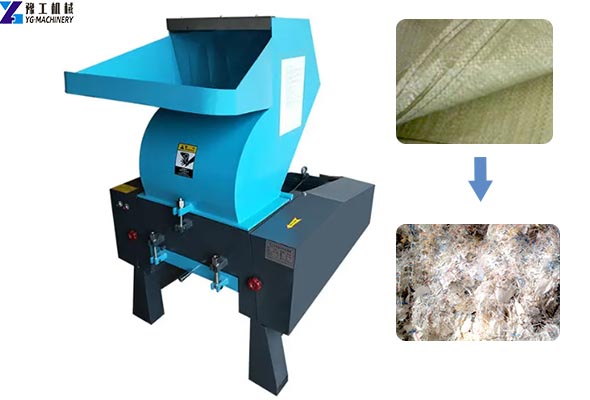 Friction Washer
The friction cleaning machine is a special equipment for recycling and cleaning waste plastics. The equipment adopts a special arrangement of blades, sufficient frictional cleaning, and a high water utilization rate. Friction cleaning machines efficiently clean materials without damaging abrasives. Friction cleaners are also used in the PET bottle washing line.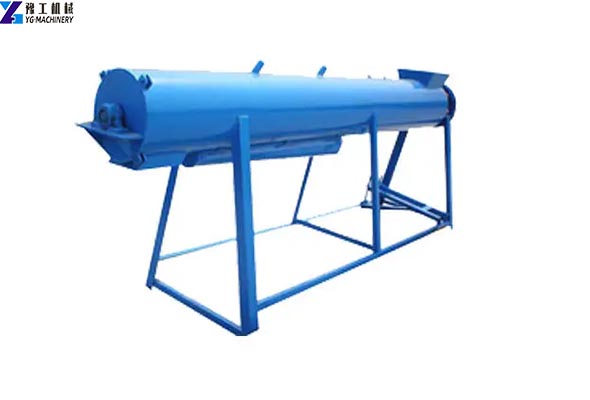 Rinse Sink
After the membrane material is initially cleaned by the friction cleaning machine, it enters the rinsing tank for secondary cleaning. YG can configure circular sinks, square rinsing sinks, etc. for customers according to their needs. In the cleaning step, if you feel that the first cleaning is not thorough, you can add a few more cleaning equipments for the second or third cleaning.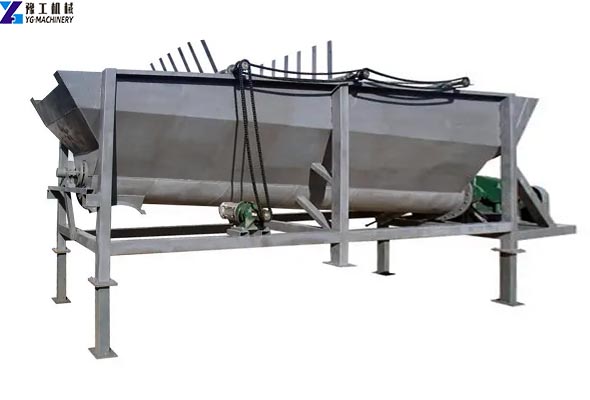 Film Material Squeeze Dryer
The film material squeeze dryer is a device for squeezing the water out of the cleaned PP PE film. It uses screw extrusion, which can quickly and effectively remove moisture from the material.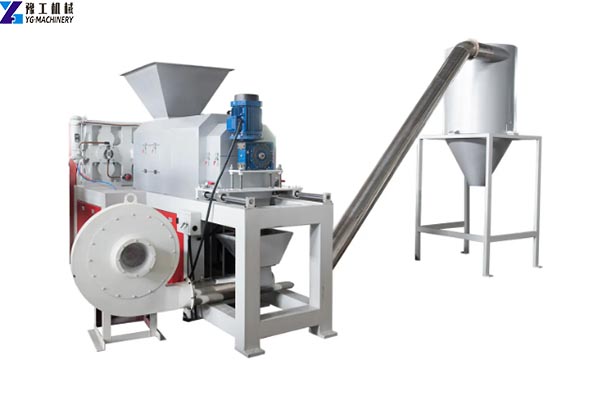 Plastic Film Granulator
If you have granulation needs, it is recommended that you use this plastic film extrusion granulator. The plastic film extrusion granulator adopts a special screw design to make the cleaned PP PE film into granules. The produced plastic granules are made into plastic products through film blowing, bag making, injection molding, and other processes.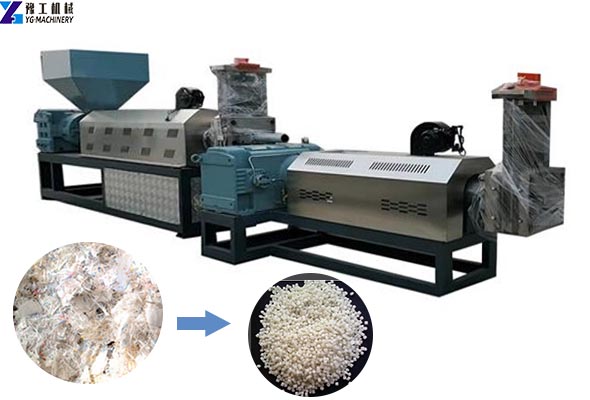 ---
Specific Parameters
| | | | | | |
| --- | --- | --- | --- | --- | --- |
| Model | Capacity | Power | Length of Line | Particle Size | Number of people |
| YG-300 | 300KG/H | 160KW | 25M | 30-60MM | 4 |
| YG-500 | 500KG/H | 250KW | 50M | 30-60MM | 6 |
| YG-1000 | 1000KG/H | 360KW | 65M | 30-60MM | 8 |
| YG-1500 | 1500KG/H | 480KW | 75M | 30-60MM | 10 |
Note: The above parameters are for reference only, please consult YG staff for details. And YG provides plastic film cleaning and recycling lines with various outputs, and the production line machines can be customized. Please contact YG for plastic film recycling cleaning solutions.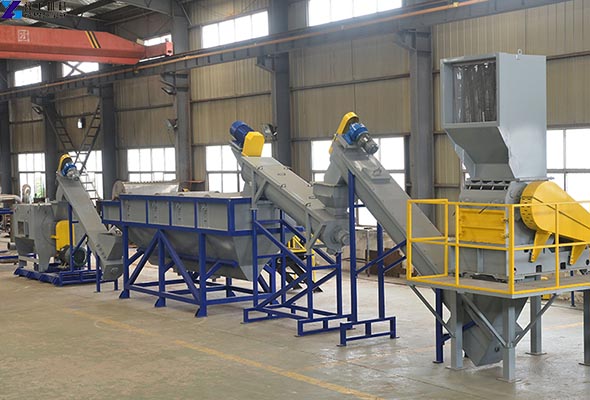 PP PE Film Washing Line Features
The whole production line has a reasonable design structure, a high degree of automation, and strong reliability.
The intelligent control system is used for operation, and the human-computer interaction interface is intuitive, convenient, and reliable.
Constant temperature control, accurate temperature control, stable performance
YG uses materials higher than industry standards to ensure product quality and durability.
PP PE film recycling machine adopts 304 stainless steel, the equipment is reliable and durable.
Non-standard products and machines can be matched and customized according to customer needs. For example, several more cleaning equipment can be matched according to the cleanliness of raw materials and actual production needs.
Low power consumption, reasonable design, and high output.
It is widely applicable to recycling and cleaning various PP PE film raw materials, and the finished products have high cleanliness.
The PP PE film washing line can also be used with an extrusion granulator, film blowing machines, plastic bag making machines, injection molding machines, and other equipment.