Disposable plastic shoe cover making machine is dual-use equipment for PE, CPE plastic, and non-woven shoe cover production. It adopts ultrasonic welding technology, which has fast welding speed, high strength, and good sealing performance. The automatic PE shoe cover making machinery completely replaces manual production, with fast production speed, saving labor and cost. YG automatic ultrasonic shoe cover equipment not only provides equipment for making plastic shoe covers but also provides raw materials for making shoe covers. If you want to use the automatic shoe cover making machine to make plastic or non-woven shoe covers, please contact us.
Plastic Shoe Cover Making Machine Overview
Finished product: disposable plastic shoe cover, non-woven shoe cover.
Raw materials: PE, CPE roll film, non-woven fabric, rubber band.
Suture technology: heat sealing and ultrasonic seamless suture technology.
Size: The finished product size can be customized according to customer needs.
Finished Product Display
The disposable plastic ultrasonic shoe cover making machinery can make plastic shoe covers and non-woven shoe covers.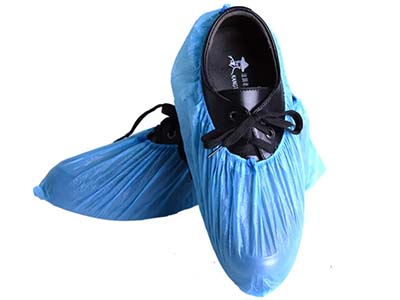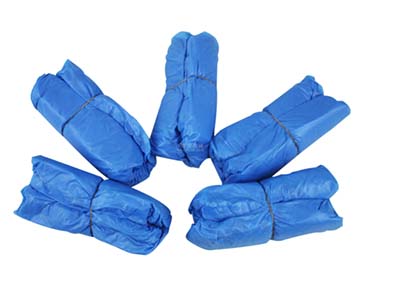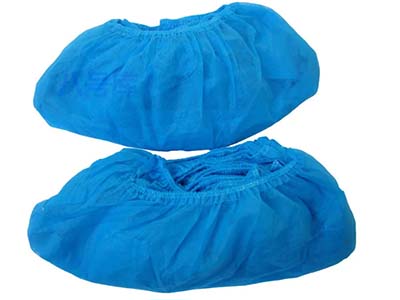 Applicable Industries
Shoe covers are a common item of personal protective equipment in the medical, chemical, industrial, laboratory, and emergency settings. In food, electronics, protection, beauty, and other dust-free industries, it can ensure the cleanliness of the production workshop and eliminate unpleasant odors. The use of disposable shoe covers ensures a sterile environment for hospitals, scientific research, etc. In addition, it also has a wide range of applications in general household cleaning. It not only solves the trouble of customers changing shoes but also reduces the difficulty of household cleaning.
PE Shoe Cover Machine Video
Automatic Ultrasound Shoe Cover Machine Production Process
The production process of the disposable shoe cover machine mainly includes: automatic feeding – importing – folding – welding – forming and cutting.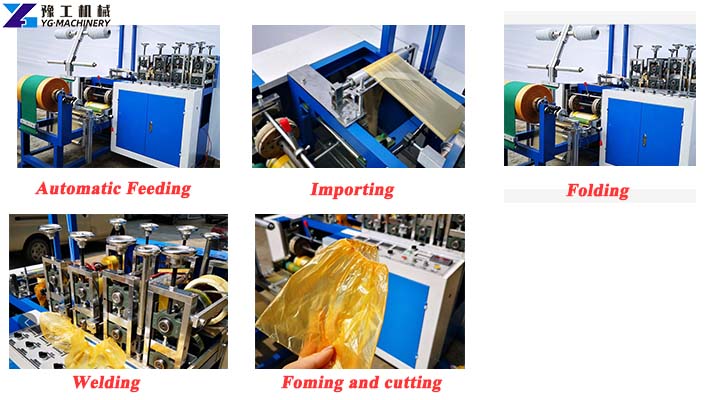 Before using the automatic ultrasonic shoe cover making machine to make the disposable shoe cover, you need to prepare the equipment, the disposable roll film, and the rubber band. The PE shoe cover making machine feeds the raw materials to the finished product to realize fully automatic operation. This adopts the ultrasonic heat sealing method to effectively fix the two ends of the shoe cover and the rubber band. The finished shoe cover is obtained after cutting through the cutting procedure of the shoe cover machine.
PE Shoe Cover Making Machine Parameters
| | |
| --- | --- |
| Material | PE、CPE plastic film, rubber band |
| Machine size | 1500mm*1500mm*1700mm (L*W*H) |
| Packing size | 1700mm*1550mm*1300mm(L*W*H) |
| Output | 150-170pcs/min |
| Normal product size | 350*160mm |
| Voltage | 220v/380v(as your request) |
| Machine weight | 750kg |
| power consumption | 3.5kw |
| Product size | 400*160mm(L*W)as your request |
PE Non Woven Bag Making Machine Features
One machine for two purposes, the disposable shoe cover making machine can not only produce plastic shoe covers, but also non-woven shoe covers.
The production effect is good, the finished product is firm and beautiful.
Automatic equipment replaces manual production, saving labor and reducing production costs.
Using ultrasonic welding technology, welding is faster and stronger.
The raw materials are automatically folded in half, and the electric heating wheel is automatically clutched to eliminate fire hazards.
Heat welding, smooth surface, no scorch.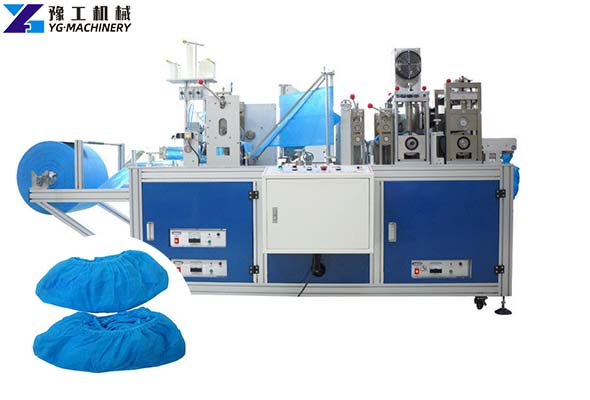 Services that YG Can Provide
YG Disposable Plastic Shoe Cover Making Machine Manufacturer provides high-quality low-cost equipment to customers. Moreover, YG Machinery also provides services such as mechanical design and voltage replacement for customers. In addition, YG also has joint PE, CPE plastic, and non-woven coil suppliers. If you need it, we can provide a one-stop service.
Contact YG for Getting Disposable Shoe Cover Making Machine Price
Related Posts