PVC pipe making machine is mainly used to produce PVC pipes of various diameters. The produced PVC pipes can be used in agriculture and construction, water supply and drainage, and other purposes. PVC pipe extruders can be combined with a screw feeder, double vacuum calibration tanks, double haul-off machine, dust-free cutter, double belling machine, laser coding machine, and other equipment to form a PVC extrusion production line.
Finished Product Show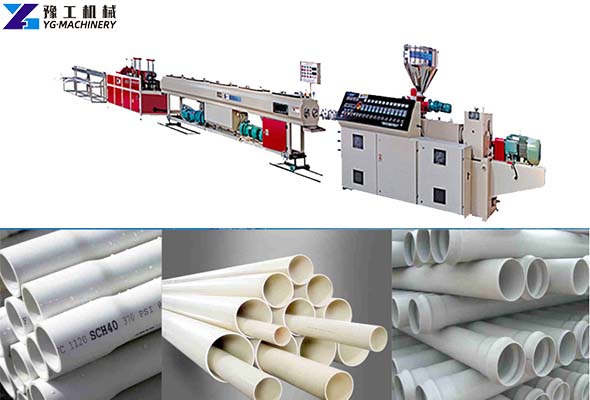 PVC pipe making machine list
This PVC pipe making machine is composed of a conical twin-screw extruder, mold, vacuum forming tank, haul-off machine, automatic cutter, and stacker.
| | |
| --- | --- |
| Machine Name | Quantity |
| Twin screw extruder | 1 set |
| Extrusion mould | 1 set |
| Vacuum forming machine | 1 set |
| Hauling-off machine | 1 set |
| Automatic cutting machine | 1 set |
Plastic PVC Pipe Making Machine Details