The drinking water filling machine automatically fills drinking water into plastic bottles. It is suitable for bottles of different sizes such as 300ml, 500ml, 1L, 3L, etc. The drinking water packing machine is a three-in-one washing, filling, and capping machine. It adopts new technology and new structure, leading the development of the liquid filling and packaging industry. The drinking water bottle filling machine has a high degree of automation, stability, and a low failure rate. All parts in contact with liquid adopt high-quality stainless steel, which is the best equipment for drinking water filling.


Three Major Devices Of Drinking Water Filling Machine
The drinking water filling machine is an automatic filling machine that integrates three functions bottle washing, filling, and capping. There are three major devices installed on this piece of equipment, a flushing device, a filling device, and a capping device.
Flush the device. The device is mainly set up for rinsing bottles. The clamping head and bracket are made of SUS304 stainless steel. The rotation of the clip is controlled by means of a switching device located at the nozzle below the mouth of the bottle.
Filling device. The filling valve adopts SUS304. There is a guide ring in the filling valve to avoid friction; the O-shaped silicone sealing ring has the characteristics of no bottle no filling, good sealing performance, fast filling speed, and accurate liquid level.
Capping device. It adopts the advanced magnetic adjustment torque form, and the screw cap can be adjusted tightly. And it equips with a height adjuster suitable for the closure of various caps.



Technical Characteristics Of Drinking Water Packing Machine
It adopts rotary intermittent spray washing, from bottle feeding, bottle clamping and putting on shelves, bottle inverting and turning over, synchronous bottle spraying until the bottle is drained out and enters filling;
The drinking water bottle packing machine adopts the unique clamping bottle mouth and normal pressure filling. It ensures the accurate sealing of the bottle mouth and the filling valve mouth and eliminates the leakage caused by the bottle being out of round or the bottle body being skewed and the bottle wall being thin when the original bottle bottom is filled. liquid phenomenon;
It is controlled by a programmable controller to realize the automatic control of the whole process from bottle feeding to packaging;
Cap screwing head with magnetic clutch, the torque can be adjusted, so as to ensure the quality of the screw cap;
All the parts in contact with the liquid are made of stainless steel (SUS304), which meets the requirements of food hygiene.








Drinking Water Bottle Filling Machine Price
Want to know the drinking water bottle filling machine price? Please contact us and let us know the following parameters:
Do you want to fill the water? Or do you need to fill in other materials?
What is the bottle size you need to fill?
What is your filling output?
Please provide us with the above parameters, and we will quote for you according to your needs. If you have questions about some of these questions, we'll answer them in detail.

Other Filling Solutions
YG plastic processing machine manufacturer provides customers with a variety of filling solutions. The enterprise provides tea, pure water, mineral water, fruit juice, and beverage filling production lines. 3~5 gallon bottled drinking water production line and other supporting equipment.
Bottled Water Filling Matching Equipment
If you are looking for related equipment for your bottled water filling, besides the 3-in-1 drinking water filling machine, you can also consider the following equipment. Labeling machines, shrink film packaging machines, water treatment systems, etc.
Labeling machine: A labeling machine is a device that sticks labels onto bottles. It can efficiently label products with various labels, such as price labels, product information labels, barcode labels, etc.
Shrink film packaging machine: Shrink film packaging machine is a device used for packaging filled plastic bottles. It mainly uses POF, PP, PVC, and other shrink films as materials. It can pack single or multiple plastic bottles.
Water treatment system: The water treatment system is suitable for all kinds of water treatment equipment such as pure water, mineral water, beverage products, and process water.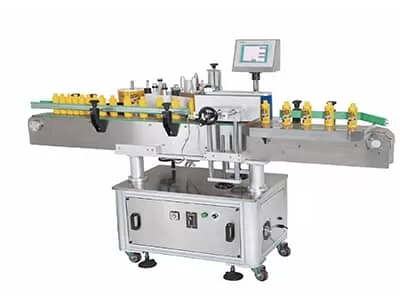 Please choose the appropriate equipment according to your actual production situation. If you have any doubts, please contact us.