The dog poop bag making machine uses biodegradable polymer raw materials to make degradable garbage bags. Biodegradable garbage bags meet environmental protection requirements, with fast degradation and excellent performance. Therefore, pet garbage bag-making machines for making biodegradable garbage bags are also very popular. This dog excrement bag-making machine can be used to produce ordinary continuous garbage bags, star-seal garbage bags, vest bags, and other finished products. The finished product is beautiful and firm, and the printing pattern and finished product size can be customized. YG's biodegradable dog poop bag making machine is the best equipment for pet waste, kitchen waste, leaf waste, and other garbage.
Finished Pet Garbage Bag Display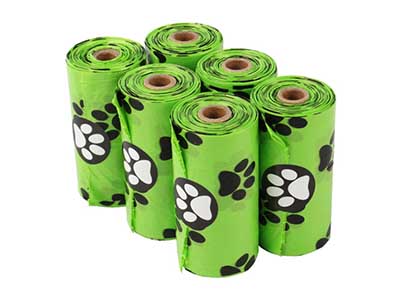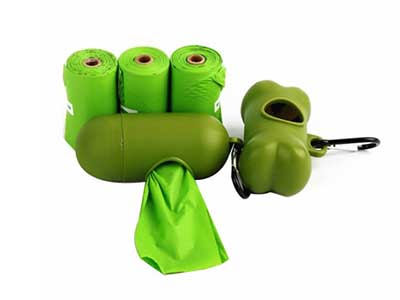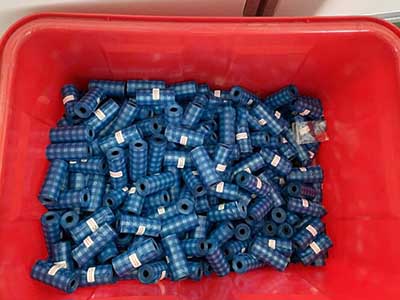 YG also offers other plastic daily necessities-making machines. Such as apron making machines, shoe cover making machines, drawstring garbage bag making machines, ear cover machines, and other plastic product making machines.Contact YG plastic machine manufacturer to get a machine quotation.
What is a Degradable Trash Bag?
The biodegradable garbage bag is an environmentally friendly plastic bag, which is a garbage bag made of PLA, PHAs, PBA, PBS, and other polymer materials. This degradable garbage bag is a product developed in response to the concept of environmental protection. Biodegradable bags decompose under specific conditions such as composting or anaerobic conditions. Finally, the garbage bags are degraded into carbon dioxide, methane, water, other minerals, and inorganic salts.
Related: What is the difference between conventional & biodegradable plastic bags?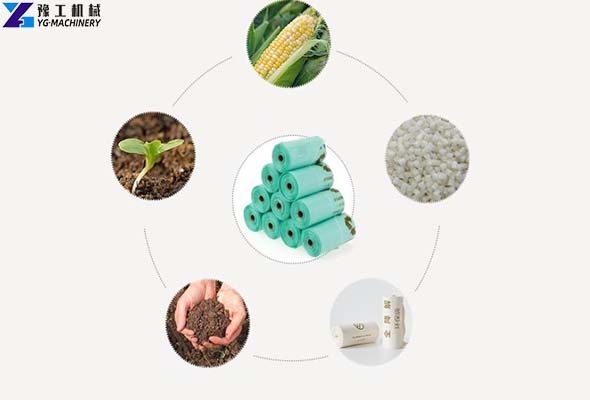 Benefits Of Using Degradable Garbage Bags to Dispose Dog Poop
Environmental protection: Dispose of dog feces through dog feces garbage bags, and the dog feces are degraded into organic fertilizers through a biodegradation process. It is environmentally friendly and reduces white pollution.
Good performance. Degradable pet garbage bags mainly use starch as the main raw material, which has better degradation ability than other materials, long life, and low cost.
The finished product is beautiful. Biodegradable garbage bags and ordinary garbage bags have the same function except for the difference in composition. Customized printing patterns can be carried out, and the size of the finished product can be customized, which is suitable for packaging a variety of products.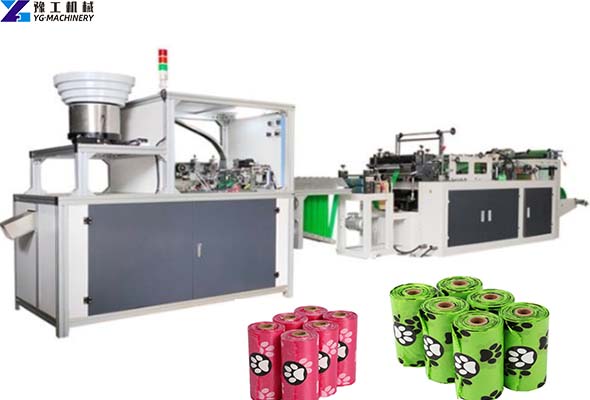 Dog Poop Bag Making Machine Parameters
| | |
| --- | --- |
| Model | YG-350 |
| Product thickness | 0.01-0.015mm |
| Product category | plastic film convenience bag |
| Bag making speed | 150 (pcs/min) |
| Bag making length | 100-500 (mm) |
| Number of bag making rolls | 6 (pcs/min) |
| Small roll diameter | 25mm |
| Small roll width | 60mm |
| Motor power | 1.5 (kW) |
| Bag making width | 240mm |
Pet Garbage Bag Making Machine Advantages
This equipment is suitable for sealing, cutting, and bagging natural or colored cylindrical plastic films. It is suitable for producing pet garbage bags of various shapes, such as continuous roll bags, star-seal garbage bags, vest garbage bags, etc.
It adopts horizontal triangle automatic folding, automatic winding, and automatic labeling.
Using a microcomputer and stepping motor to drag the material, the production precision and speed are high.
Automatically seal, make pet garbage bags beautiful and firm, and hold the weight of garbage due to PE plastic bags.
Automatic counting, automatic continuous roll, with counting alarm device, saving labor.
All processes of the pet garbage bag making machine to produce garbage bags are automatic.
Machine Details