The plastic bucket making machine (bucket molding machine) is used to produce various daily plastic buckets. YG can customize molds according to the shape and size of plastic barrels produced by customers. The plastic barrel molding machine can apply for producing paint buckets, sauce buckets, laundry detergent buckets, pesticide buckets, feed buckets, and other plastic buckets with various shapes and specifications. YG plastic bucket manufacturing machines can also be used to produce various products such as plastic chairs, plastic toys, plastic pipes, and electronic components. Contact YG to get a plastic bucket making machine price.
Plastic Bucket Finished Product Display
Plastic barrels with plastic lids can be widely used in the packaging industry. Therefore, injection molded plastic buckets are widely used in the food and beverage packaging industry, agricultural chemical packaging industry, medical packaging industry, etc.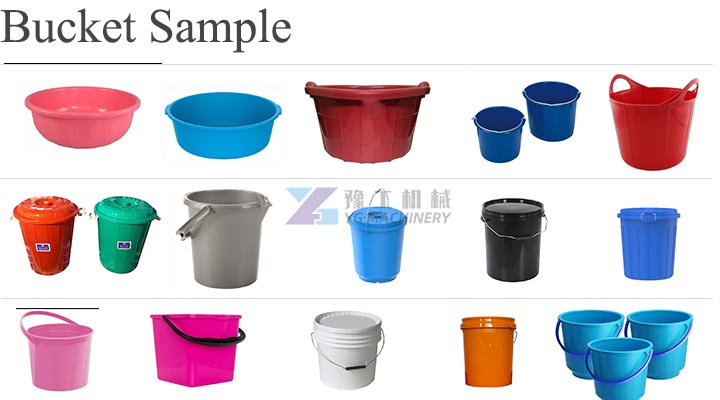 Plastic Bucket Injection Molding Process
Plastic buckets are made by injection molding using high-density polyethylene or polypropylene plastic. Before injection molding, it is necessary to have abrasive tools and injection molding machines corresponding to the plastic bucket. First, add the raw material pellets to the injection molding machine, and melt the plastic by heating the barrel. The molten plastic raw material is injected into the mold at high speed and high pressure. After forming and cooling the mold, you can obtain the finished product by opening the mold.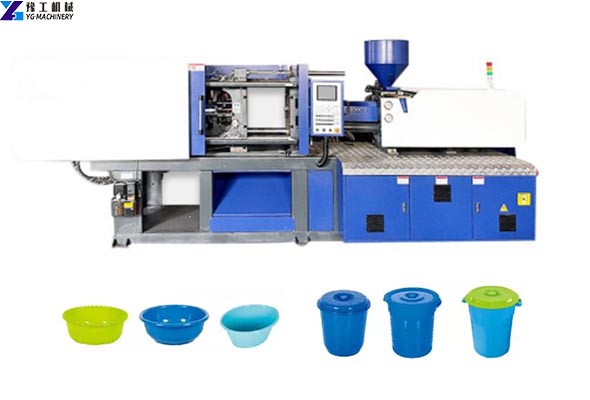 Plastic Bucket Manufacturing Machine Parameters
| | |
| --- | --- |
| Name | Plastic Bucket Molding Machine |
| Shot volume | 300g |
| Screw diameter | 45mm |
| Injection pressure | 183MPA |
| Motor Power | 22kw |
| Clamping force | 168kn |
| Screw speed | 0-180rpm |
| Specification | 108T |
Note: The above is one of the parameters of the plastic barrel injection molding machine for reference only. YG provides various types of injection molding machines for making plastic bucket basins. Both the machines and molds can be customized. If you are interested in our equipment, please contact us to get a plastic bucket making machine price.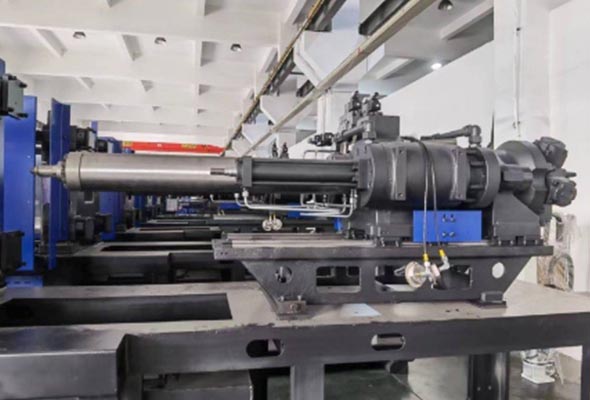 About YG Plastic Bucket Making Machine Price
YG offers plastic barrel making machines of various models and capacities for sale. The larger the output, the higher the price of the plastic bucket making machine. The size of the plastic barrel mold and the difficulty of opening the mold is also related to the machine price. Therefore, the injection molding machines price is not fixed. YG plastic injection molding machine has a very wide range of applications, it is used in food, medical, industry, home appliances, and other fields. If you are interested in our equipment, please leave us a message.