The plastic cup making machine is thermoforming equipment, which is molding equipment for many kinds of plastic tableware. Thermoplastic molding machines are popular among customers because of their wide application range, good molding effect, and high production efficiency. At present, the YG plastic cup making machine is one of the most popular equipment for customers. Recently, the YG plastic cup making machine was exported to Pakistan. Below are the details for you.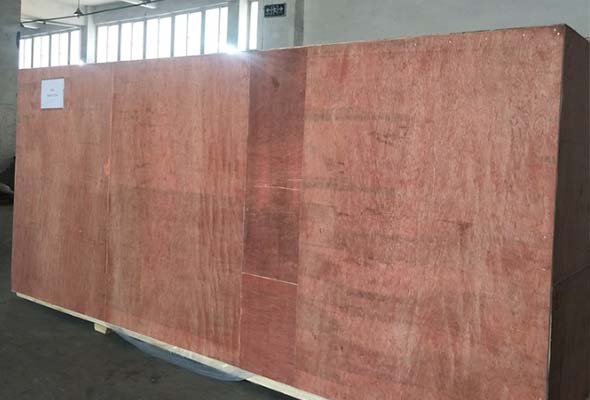 Pakistan Plastic Cup Making Machine Order Details
Finished cup material: PP material plastic cup
Specifications: 200ml plastic cup
Required equipment: plastic cup forming machine, plastic cup lid forming machine
After receiving the inquiry from the Pakistani customer, we learned that the customer wanted to make a 200ml PP plastic cup. And he also wanted matching plastic cup lid forming machine equipment. Therefore, the YG plastic cup making machine manufacturer customized the plastic cup mold for him according to the customer's needs. And we have equipped him with a suitable type of plastic cup lid forming machine according to the customer's needs. After more than a month of detailed discussions, the client signed a contract with YG and paid a deposit. Please leave us a message and we will equip you with a suitable model of the plastic thermoforming machine according to your needs.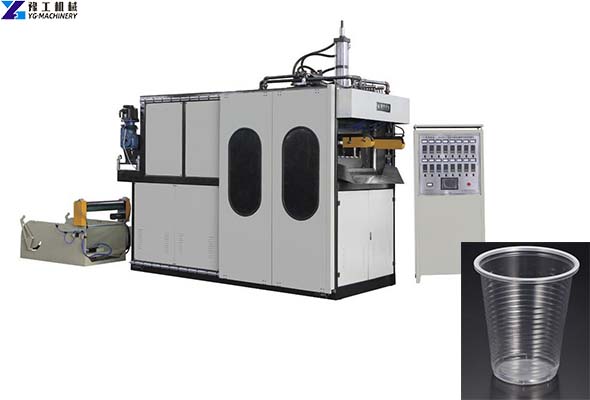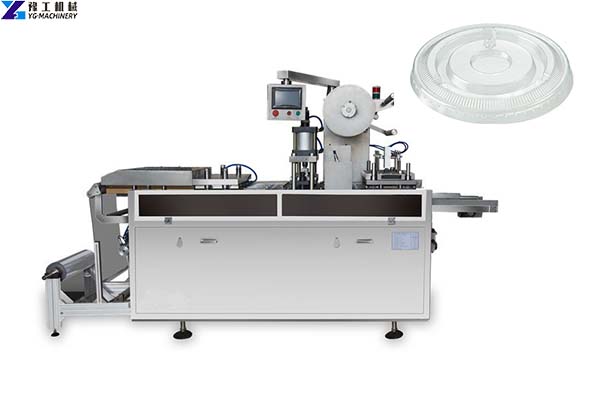 Application of Plastic Cup Making Machine
The function of the plastic cup forming machine is very powerful, it can process the plastic sheet into a variety of plastics. To make different products, you only need to customize different shapes of molds. Plastic thermoforming machines are widely used in various fields such as food, medicine, industry, automobile, bathroom, and so on. It can make plastic parts such as food and drug trays, disposable lunch boxes and tableware, medical device shells, and auto parts partitions. According to material of plastic, it can process plastic sheets of various materials such as ABS, PC, PVC, PE, PP, PS, PET, etc.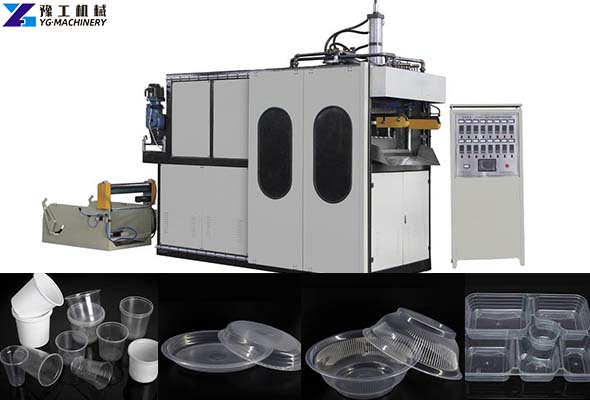 How Does a Plastic Cup Making Machine Make Plastic Cups?
The thermoforming plastic cup making machines mainly use the principle of vacuum air pressure. It first heats the plastic sheet and puts the heated plastic sheet on the mold. At the same time, the vacuum pump evacuates the air in the mold cavity. Therefore, the sheet is adsorbed on the mold and formed, and then cooled and set. After molding, the plastic cup is cut by a cutter, and then the plastic cup and the rest of the waste are separated.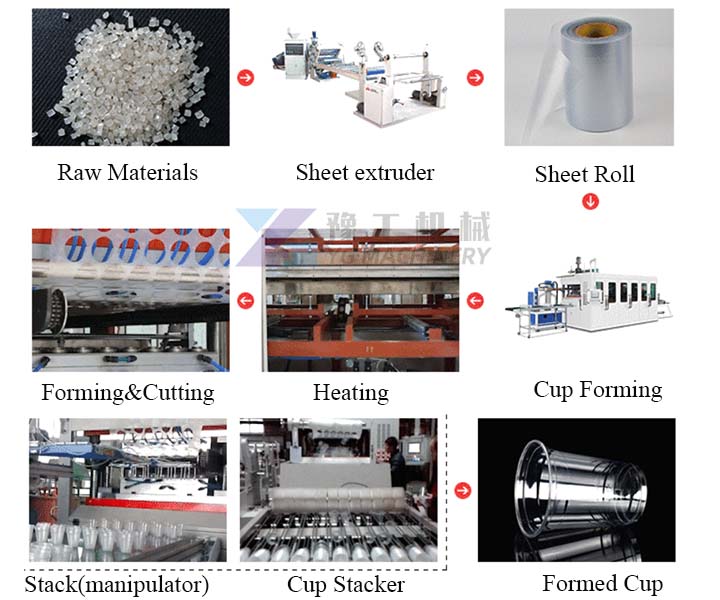 What is the Plastic Cup Making Machine Price?
The price of plastic cup making machines increases with the size of the equipment. YG plastic cup making machine manufacturer offers various models of equipment. It mainly depends on the size of the plastic cup you need to prepare and the production speed of the equipment. In addition, many plastic cup manufacturers may require a complete production line including plastic sheet extruders, cup stackers, and other equipment. So, if you want to know the price of a plastic cup making machine, please contact us.
YG's plastic cup making machine is not only popular in Pakistan, but also in Qatar, UAE, Indonesia, France, Sri Lanka, and many other countries. In addition, YG also provides other material lunch box machines, such as foam food box making machines, aluminum foil lunch box making machines, paper bowl machines, and other equipment. If you want to know about food container making equipment, please contact us.