At the beginning of July, all Yugong workers were preparing for the opening of the 2nd Henan Love and Charity Day. Yugong Love Charity Day is dedicated to donating the proceeds from the company's sales of machinery on 7.20 to charitable foundations, schools, and individuals in need. Yugong Love Charity Day starts in 2021 and will continue in the future.
Origin of Yugong 720 Love and Charity Day
On July 20, 2021, the heavy rainfall carried by the typhoon "Fireworks" swept across Zhengzhou. The heavy rain, which has never been seen in a thousand years, has caused Zhengzhou to fall into and suffer from floods. The lives and properties of 13 million people in Henan suffered huge losses. According to the Henan Emergency Management Department, 720 torrential spots of rain caused more than 3 million people to be affected in 103 counties, cities, districts, 877 townships and towns across the province. The affected area of crops was 215.2 thousand hectares, and the direct economic loss was 1.22 billion yuan.

Faced with the sudden disaster, Li Hongqi, chairman of Henan Yugong Machinery Co., Ltd., immediately donated 120,000 yuan for flood relief. And let all employees of the company carry out a three-day charity sale. All donations from the three-day company's sales will be donated to the front line of flood fighting and disaster relief.
Continuation of Yugong Love and Charity Day
Li Hongqi said that in the face of catastrophe, we are insignificant. Although our factory area was also flooded, in the face of the catastrophe, all I can do is to do my best to contribute to society. In the face of crisis, we should extend a helping hand to our compatriots while saving ourselves. Putting the interests of the country and the people in the first place, and not forgetting to give back to society while benefiting, is the corporate value of Yugong, and it is also the common belief of all Yugong workers.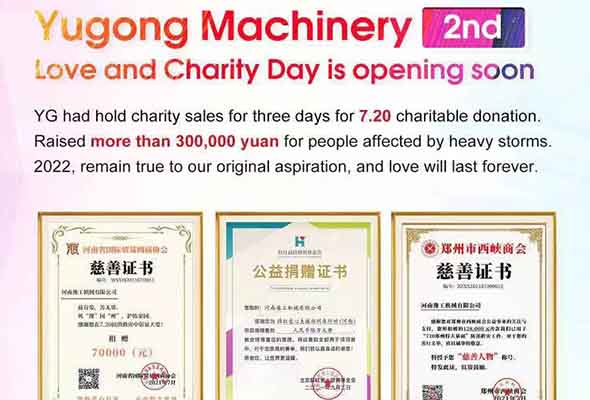 After the three-day charity sale, upon Li Hongqi's suggestion, all YG workers agreed to set 720 as the company's charity day and set up a special charity fund. In the future, all the proceeds from the 720-day charity sale will be donated to charitable foundations to help those in need.
Yugong 720 Love and Charity Day is about to start, let us look forward to it together.